This is an archived article and the information in the article may be outdated. Please look at the time stamp on the story to see when it was last updated.
Carleigh Hager is telling her story of survival after she says her now ex-boyfriend brutally attacked her inside their Indianapolis home.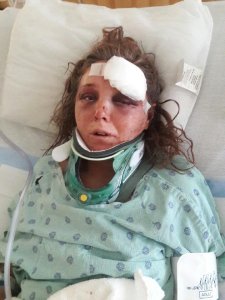 Hager spoke this week to KTLA sister station WXIN in Indianapolis from inside her hospital room, where she's recovering from one of the darkest nights of her life.
"He tried to rip my tongue out with his bare fingers from here all the way up to here. And he succeeded, half way," Hager said. "He got the right side halfway. He got it halfway ripped out."
Talking through the pain of having her tongue reconstructed and bruises and bite marks all over her body, Hager recalled the traumatizing episode with her mother by her side.
She says she and 26-year-old Ryan Cameron returned home from a wedding Saturday night with some friends. After a verbal assault, things got physical.
"He locked our friends outside of our house and ran to the bathroom and locked us in the bathroom," Hager said.
That's where she says he  beat her until she passed out. The friends called police, a move that may have saved Hager's life.
"Those people intervened. They did what they could to stop the situation and they called the police to make sure something happened to protect this victim and that's exactly what should happen," says Catherine O'Connor, CEO of the Julian Center, a shelter for victims of domestic violence.
Cameron is in local county jail, charged with aggravated battery and strangulation, WXIN reported.
According to court documents, officers arrived at the home Saturday night and heard a woman crying. Cameron walked towards the door covered in blood. Police say he was very confrontational and told them to go away because everything was OK.
He eventually was taken into custody.
Hager was found in the bathroom, also covered in blood. She had multiple facial injuries and was not very coherent. She was able to tell officers that Cameron had caused the injuries.
It appeared that she had tried to escape the residence through a window, WXIN reported.
The tip of one of Hager's ears appeared to have been bitten off and she had a cut to her scalp and forehead that exposed her skull. She also had several bite marks on her right forearm. Both of her eyes were swollen shut.
Hager's mother told WXIN she didn't see any warning signs. She hopes her daughter's scars won't define her.
"She's such a beautiful person inside and out. Her strength and beauty is inside and the scars will heal and, in time, so will her heart," mom Amy Ballard said.
Hager says after a loving two-year relationship, the mental, verbal and physical abuse started a month ago.
The 25-year-old nursing assistant says she wants this story to warn others not to ignore changes.
"You have to tell somebody. You can't be embarrassed. You can't be ashamed. You have to tell somebody because I almost died and it can happen," Hager said.
The family has set up a GoFundMe account to help cover medical expenses for Carleigh.