This is an archived article and the information in the article may be outdated. Please look at the time stamp on the story to see when it was last updated.
The FBI is searching for two women police say dressed up as nuns and attempted to rob a bank in Pennsylvania Monday.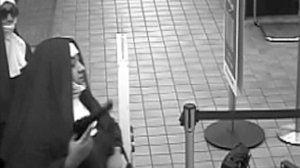 The incident occurred at a Citizens Bank near Tannersville, WNEP reported.
Two women dressed as nuns entered the bank and showed a gun to one of the tellers, police told WNEP.
The teller activated an alarm, which investigators believe could have scared off the would-be robbers.
Both left the without taking anything, WNEP reported.
It was unclear if the two fled the area on foot or in a vehicle.
The FBI has taken over the investigation from local police, WNEP reported.