This is an archived article and the information in the article may be outdated. Please look at the time stamp on the story to see when it was last updated.
Gov. Rick Scott implored Floridians on Saturday to heed their local evacuation orders.
"If you have been ordered to evacuate, you need to leave now," he said at a morning press conference. "Do not wait. Evacuate. Not tonight, not in an hour. You need to go right now."
Scott told residents of southwest Florida they needed to be evacuate by noon. If they weren't on the road at that point, he said, "Do not get on the road."
An estimated 6.3 million people have been ordered to evacuate, according to the Florida Division of Emergency Management.
Residents of the Miami area and the Florida Keys streamed north in packed vehicles Friday, anxiously rushing to dodge Hurricane Irma as the deadly storm took aim at their state after devastating the Caribbean.
The dramatic mass exodus from South Florida could become one of the largest evacuations in US history, CNN senior meteorologist Dave Hennen said. Miami-Dade, Broward and Palm Beach counties are home to about 6 million people combined.
But by Saturday, Irma's path had shifted toward Florida's west coast, threatening the lower Florida Keys and cities such as Naples, Fort Myers and Tampa, and the clock is ticking for those who haven't left yet, officials warned.
Tampa Mayor Bob Buckhorn told CNN's Chris Cuomo on Saturday morning that 14 shelters are opening in the area to take in evacuees.
"Obviously, there will be people who think they can ride this out. We hope they will be OK," Buckhorn said. "I will tell you that if the winds are consistently at 40 miles an hour or greater, our police and firefighters cannot come to get you. So if you're going to stay, hunker down."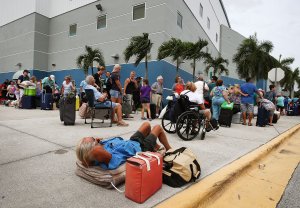 After battering Cuba, Irma was expected to strengthen again before it hits the Florida Keys.
"Based on what we know, the majority of Florida will have major hurricane impact and deadly winds. We expect this along the entire east coast and west coast," the governor said at a Friday news conference. "All Floridians should be prepared to evacuate."
On the road
On Friday, motorists braved clogged roads, backups and slowdowns to get out. Drivers waited for hours at gas stations, some of which ran out of fuel. The Florida Highway Patrol escorted fuel tankers so they could reach and resupply gas stations, the agency said.
Travel hot spots included Interstates 10, 95 and 75, and Florida's Turnpike. Troopers monitored roadways, stepping in to help after fender benders and with disabled cars and trucks.
Yesenia Rivera left the Jacksonville Beach area Friday and, 3½ hours later, was traveling west on I-10 near Lake City. "There is still severe congestion and stop-and-go traffic all the way to Tallahassee," she told CNN.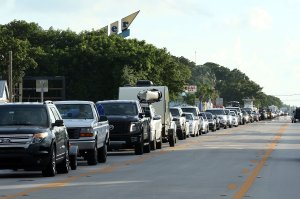 Transportation officials said Friday long areas of congestion were occurring on segments of I-75 northbound and I-95 northbound.
There was bumper-to-bumper traffic late Friday in the northbound lanes of I-95 south of Savannah, Georgia, CNN senior producer Bill Kirkos reported.
He said the parking lots of gas stations and truck stops were filled with parked cars, although it appeared stations had gas supplies and short lines.
Heading in the opposite direction, toward Florida, were utility trucks with out-of-state license plates, Kirkos said.
By Saturday morning, the Florida Department of Transportation said traffic had lessened.
The Georgia Department of Transportation suspended construction on interstates and state routes due to the expected surge of traffic.
In Florida, mandatory evacuation orders covered parts of Miami-Dade County, Broward County east of US 1, Palm Beach County, low-lying parts of Brevard County, coastal and low-lying areas of Jacksonville and Duval County, and Monroe County, home to the Florida Keys.
The evacuation of Miami-Dade County was the largest in its history, with an estimated 660,000 people asked to leave, Mayor Carlos Gimenez said Friday.
'You could die'
Some people heard officials' dire admonitions loud and clear.
"If you don't heed the warning, you could die," Don Anderson of Key Largo told CNN on Friday. "This is your life. What's it worth? You can always party later."
Craig Fugate, former administrator of the Federal Emergency Management Agency, told CNN on Saturday morning that going just a few miles inland could beneficial for those in coastal areas.
"Go to friends, go to families, go to the shelters that are open," he said. "But if you are planning to go long distance, leave early and give yourself time. And that is running out."
Flying out of the storm zone
Some Floridians opted to fly instead of risking chaos on the highways. Delta Air Lines added flights out of Miami, Fort Lauderdale and Key West to Atlanta, its largest hub, and allowed passengers affected by Irma to rebook flights for free, the airline said.
American and United also waived change fees for passengers affected by Irma, the airlines said.
But Irma's impending landfall forced airlines serving some of the nation's largest airports to begin to shut down operations this weekend.
By late Saturday, Miami, Orlando and Fort Lauderdale — home to the 12th, 13th and 21st largest US airports, respectively — were expected to be largely dormant, and will halt operations through Sunday. Jacksonville and Tampa international airports both announced they would cease operations Saturday night.
Stranded at the airport
Kevin Brokbals, who hails from Germany, was among several dozen people who spent the night on cots at the Miami airport. He planned to be stuck for a while and said airport officials hadn't given much sense of his options.
"The airport didn't tell us anything," he said Friday. "We asked some police officers to give us any information because there was no one officially from the airport."
First, he and others were told they had to leave the airport and head to a shelter. Then they were told all shelters were full.
"And we have to stay here," he said. "We can't stay upstairs because there are too many windows, too (much glass) which can break. And that's why they want all the people in one area, even though it's not a shelter."
More than 54,000 residents were in 320 shelters across the Florida, according to the governor's office Saturday. More shelters were expected to open throughout the day.
Leila Traversoni of Argentina was visiting Miami to shop for a wedding dress and a tuxedo for her fiancé. The couple are desperate to get back home; they've never been through a hurricane.
"I am very afraid," Traversoni told CNN on Friday. "I am terrified. I don't know what to do. We don't have any place to go. We are looking for a shelter."
Traversoni said she's hoping for an answer from American Airlines or airport staff.
"We don't know what to expect," she said. "We are really, really terrified because we don't know what to do, where to go — just praying at this point."
Hunkering down
Others planned to stay put to protect their homes.
"I evacuated Matthew," one Merritt Island resident said, referring to last year's hurricane. "I feel this is going to be a Category 2 or 3 by the time it hits us. I've got a pretty strong home, so I'm pretty confident it will survive."
Wary of tornadoes, though, he said he could change his plans if it looks like Irma is strengthening.
"I'm watching the weather and the news and keeping track with the storm," he said.
Scott Abraham, who lives on the 11th floor of a building in Miami Beach, said he is prepared to ride it out.
"I have been here 15 years and been through so many storms. We have been told many times to evacuate," Abraham said. "I don't think it's going to hit us directly. If it does, I think we are safe. We have food. We have supplies. We have everything we need.
"We are ready to rock 'n' roll with the storm," he said.
Another South Floridian, Linda Blackshear, also planned to stay. She doesn't live in an evacuation zone, she said, and her grandson lives with her.
"I feel safe," she said, adding she has no place to evacuate to. "I have all the supplies and all the essentials."