This is an archived article and the information in the article may be outdated. Please look at the time stamp on the story to see when it was last updated.
A Zimbabwean court dropped subversion charges Thursday against a US citizen accused of saying on Twitter that the southern African nation was being led by "a selfish and sick man."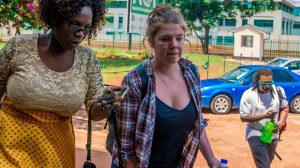 Martha O'Donovan was charged two months ago with subversion and undermining then-President Robert Mugabe's authority. She denied the charges.
"Further remand is denied," magistrate Rumbidzai Mugwagwa told the court Thursday.
O'Donovan spent about a week in the country's maximum security prison before being released in November on $1,000 bail. If convicted of subversion, she faced up to 20 years in prison.
After the ruling Thursday, O'Donovan smiled to the packed courtroom before quickly leaving to embrace friends and US embassy officials outside.
"I have no comment at the moment," the 25-year-old American told reporters outside the courtroom.
Zimbabwe Lawyers for Human Rights, the legal group that has been representing O'Donovan, argued that the charges bordered on infringement of freedom of expression.
"I was not surprised at all by this ruling. There was no case to start with," Obey Shava, from Zimbabwe Lawyers for Human Rights, told reporters.
O'Donovan, who works for a satirical video website, was the first person to be accused of plotting to overthrow the government following the creation in October of a cybersecurity ministry intended to police social media.
According to court documents, her tweet read, "We are being led by a selfish and sick man."
Zimbabwe's longtime leader Mugabe, 93, stepped down in November after 37 years in power. His autocratic rule was finally brought to an end by a military takeover of power and impeachment proceedings in Parliament.
Zimbabwe's former vice president Emmerson Mnangagwa was sworn in as president days later.
Correction: This story has been updated to correct the name of the magistrate who delivered the court's decision Thursday.