This is an archived article and the information in the article may be outdated. Please look at the time stamp on the story to see when it was last updated.
Zimbabwe's military leaders have seized control of the impoverished southern African nation, placing veteran leader Robert Mugabe under house arrest and deploying tanks to the streets of the capital, Harare.
The president of neighboring South Africa, Jacob Zuma, said 93-year-old Mugabe — the world's oldest living leader — was unable to leave his home. Troops were reportedly stationed at the country's parliament and presidential palace.
In a dramatic televised statement in the early hours of Wednesday morning, an army spokesman denied that a military takeover was underway.
But the situation bore all the hallmarks of a coup: The military was in control of state TV in Harare, there was a significant army presence at the international airport, and Mugabe has not been seen in public.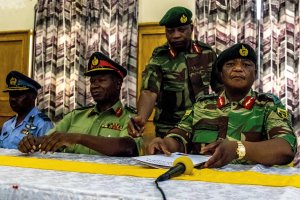 Key developments:
Military in charge: An army spokesman announced on state television station ZBC at 4 a.m. that it was conducting an operation to target "criminals" close to the President who were causing "social and economic suffering."
President's location: The spokesman said Mugabe and his family were "safe." South Africa's Zuma later said Mugabe had been confined to his home, but was feeling "fine."
Situation on streets: The streets of the capital were quiet but lines were seen outside banks. CNN saw army checkpoints at key locations.
What happened?
It seemed likely that the apparent coup was designed to settle a simmering succession battle in the ruling Zanu PF party, which came to a head two weeks ago when Mugabe sacked his powerful Vice President Emmerson Mnangagwa.
Mugabe's decision fueled speculation that he was preparing to anoint wife, Grace, as his successor. Grace Mugabe, 52, is widely disliked within the party's old guard, while Mnangagwa enjoyed wide support in the military.
The first signs that a military intervention was underway came Tuesday afternoon as tanks were seen near the capital.
The situation escalated with the early morning announcement, when Maj. Gen. S.B. Moyo addressed the country on state TV, vehemently denying the operation was a coup.
"To both our people and the world beyond our borders, we wish to make it abundantly clear that this is not a military takeover of government," he said.
"As soon as we accomplish our mission we expect situation to return to normalcy."
Moyo told members of the Zimbabwe Defense Forces that all leave was canceled and soldiers were expected to return to their barracks immediately. He urged Zimbabwe's other security services to cooperate for "the good of our country."
Moyo said that the security of Mugabe and his family was "guaranteed" and said the president was safe, but gave no information of his whereabouts.
There were reports Wednesday that officials were being arrested.
South African president Jacob Zuma later said he had spoken with Mugabe by phone and that the veteran politician was confined to his home but feeling "fine."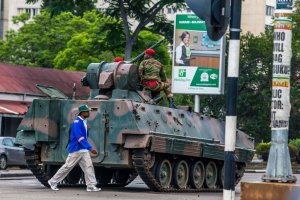 Military secures key sites
CNN journalists in Harare saw soldiers securing the Robert Mugabe International Airport and checking vehicles and IDs. The military has set up several checkpoints around the capital, and witnesses said they saw soldiers at the presidential palace and parliament.
So far the atmosphere in the capital has been peaceful.
A resident, who wished not to be named for security reasons, described the city as "very quiet," though shops were open and buses and taxis appeared to be running normally.
"Many people have just stayed home," she said.
The resident added that there was a sense of "excitement in the air" and that social media was humming over what might be happening.
But there were signs of nervousness: Photographs showed long lines at ATMs and at banks.
Political reaction
South Africa's President Zuma called on Zimbabwe's Defense Forces to show restraint, adding that he hoped they "will not move and do more damage."
"I am hoping that the situation is going to be controlled so peace and stability comes back to Zimbabwe."
But in Zimbabwe, political figures once loyal to Mugabe were beginning to turn away from him.
In a statement praising the military, Chris Mutsvanga, who heads the influential Zimbabwe War Veterans' Association, called the move a "bloodless coup."
"We salute the patriotic and gallant forces of the Zimbabwe for once again coming to the decisive rescue of the nation," the statement said.
"The populace has long suffered under a self-saving dictatorship that had become an oligarch with dynastic delusions."
Mutsvanga is an ally of the deposed vice president, but his veterans' group has historically been loyal to Mugabe, who led a violent campaign against British colonial rule and was elected Prime Minister after independence was granted in 1980 and then President seven years later.
The veterans' group has, however, been fiercely critical of Grace Mugabe who, unlike the former Vice President who had been an ally of the President for decades, has no connection to Zimbabwe's independence campaign. Her extravagant shopping trips and crude political maneuvering have made her a polarizing figure.
Decades under Mugabe
Mugabe has ruled Zimbabwe with an iron fist. On winning power in 1980 after the country gained independence from Britain, Mugabe moved swiftly to extinguish political opposition. He ordered a violent crackdown that led to a string of massacres in opposition strongholds: The country's Fifth Brigade is believed to have killed up to 20,000 people, mostly supporters of Mugabe's main political rival.
But his hardline policies pushed the country into poverty. Zimbabwe's flourishing economy began to disintegrate after a program of land seizures from white farmers, as agricultural output plummeted and inflation soared.
Accused of rigging elections and quashing any sign of political opposition, Mugabe remains the only leader many in the country have ever known. He once infamously claimed that "only God" could remove him from office.
He faced criticism for throwing a lavish birthday party last year in a region hit by food shortages and drought. But until this week had succeeded in holding off all challenges to his leadership.
UK Foreign Secretary Boris Johnson described him as a power-hungry despot who would not be missed.
"This House will remember the brutal litany of his 37 years in office," he said in the House of Commons in London.
"The elections he rigged and stole, the murder and torture of his opponents, the illegal seizure of land, leading to the worst hyper-inflation in recorded history measured in the billions of percentage points, and forcing the abolition of the Zimbabwean dollar."