This is an archived article and the information in the article may be outdated. Please look at the time stamp on the story to see when it was last updated.
The Navy has ended efforts to rescue two crew members still missing after a helicopter crashed into the Red Sea, the Navy's 5th Fleet announced Monday.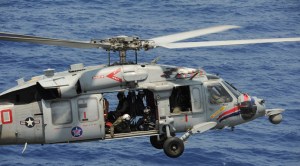 "Given the time elapsed since the incident, air crew survivability was extremely unlikely," the Navy said.
The MH-60S Knighthawk helicopter, from a squadron at North Island Naval Air Station in Coronado, was operating from the San Diego-based destroyer William Lawrence when it crashed. The William Lawrence is part of the carrier Nimitz strike group.
Three of the five crew members aboard the helicopter were rescued and are in stable condition, the Navy said.
Click here to read the full story on LATimes.com.