This is an archived article and the information in the article may be outdated. Please look at the time stamp on the story to see when it was last updated.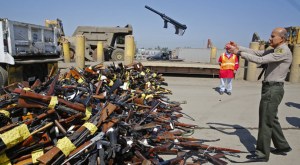 LOS ANGELES — More than 5,000 weapons collected in various buyback programs were melted down into steel rebar Tuesday morning, authorities said.
Officials from the Los Angeles County Sheriff's Department and the Santa Monica, Inglewood and Culver City police departments oversaw the 20th annual "gun melt" at Gerdau Steel Mill in Rancho Cucamonga, the sheriff's department announced.
The sheriff's department's buyback program — which offers grocery store gift cards in exchange for weapons — began in Compton in 2005. Now several municipalities offer such events throughout the year.
Many agencies reported record numbers at buyback events following the December 2012 shooting at a Newtown, Conn., elementary school. Authorities collected 2,037 firearms — including 75 assault weapons and two rocket launchers — at an L.A. event. In San Diego, officials gathered 364 weapons.
Click here to read the full story at LATimes.com.