This is an archived article and the information in the article may be outdated. Please look at the time stamp on the story to see when it was last updated.
SAN BERNARDINO, Calif. (KTLA) — A 10-year-old horse was rescued by animal control officers on Wednesday after being found wandering in the street in San Bernardino.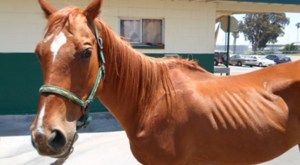 The mixed breed horse was found in the vicinity of Macy Street and Mesa Street.
The horse, nicknamed 'Sunny dayz are coming,' was severely malnourished.
She gave birth about six months ago and was about 250 pounds underweight, rescuers said.
Her owner had not been located and could face criminal charges for neglect, according to San Bernardino County sheriff's officials.
"Unfortunately people just leave them in the yard if they're moving or getting foreclosed on or just open their corals and let them wander the streets," Sgt. Adam Affrunti said.
The horse was expected to be available for adoption on June 4.
The San Bernardino Animal Shelter was accepting sealed bids. All proceeds go toward future care of animals at the shelter.
For more information on the auction, call 909-384-1304.