This is an archived article and the information in the article may be outdated. Please look at the time stamp on the story to see when it was last updated.
A gleaming new international terminal opened at LAX Wednesday, part of a $1.9 billion overhaul that airport officials hope will move the facility from world travelers' "worst" to "best" lists.
At a noon ceremony, officials unveiled Phase I of the Tom Bradley International Terminal improvements, featuring nine new boarding gates that can accommodate larger contemporary aircraft, more than 60 new shops and restaurants, a children's play area, spa, and other amenities.
Many of the new facilities are in a 150,000-square-foot pavilion named, like the overall terminal, for a former mayor of Los Angeles, Antonio Villaraigosa, who ended his second term in June. Bradley was L.A.'s mayor from 1973 to 1993.
Officials with Los Angeles World Airports, which runs LAX, called the terminal a "new architectural icon for Los Angeles."
Current L.A. Mayor Eric Garcetti and other city and airport officials celebrated the opening during a ceremony at noon Wednesday.
"More than 8 million international travelers a year will have the best first and last impression we can give of our city: stunning, synchronized video; last-minute shopping that rivals Rodeo Drive; and the best food of our city — right here," Garcetti said.
The new terminal building can handle 4,000 passengers per hour, more than double its previous capacity, according to architect Curtis Fentress. The repeated lines in the building's roof are meant to mimic the waves of the nearby Pacific Ocean, he said.
 Restaurants with outlets in the terminal include Umami Burger, Border Grill, LA Mill coffee and Pinkberry.
Westfield
, which runs several malls in Southern California, won a contract to manage the retail and food concessions in the terminal.
Shops will include a Fred Segal boutique, a Coach leather goods store, and a branch of Italian luxury goods maker Bulgari, among other upscale options.
The new gates include electrical outlets, USB ports and free Wi-Fi, items that earned notice in the writeup of a "best experience at the gate" award the airport received earlier this month from a group called Future Travel Experience.
Some of the new boarding gates have been open for several months; more of the shops and restaurants are expected to open in coming weeks.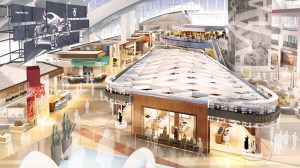 Phase II of the terminal project, which includes nine additional new gates and new customs and security areas, is set to be complete in early 2015. The international terminal work is the centerpiece of a $4.1 billion improvement project at LAX.
Los Angeles International Airport, one of the world's busiest, is frequently listed on "worst" lists in travel and other publications.