This is an archived article and the information in the article may be outdated. Please look at the time stamp on the story to see when it was last updated.
As Bruno continued his recovery Saturday, the Anaheim Police Department hailed the dog as a "hero" in a blog post on their website that included new details about how the K-9 officer responded to the shooting.
According to the blog post, which was dated Friday, Bruno returned to his handler after being shot, whimpered once and wanted to go back into action.
"Even as his handler raced him to the hospital, Bruno's ears were up and he didn't want to lie down," the post read.
Bruno was shot in the lower jaw Thursday during a search with SWAT officers after he found a gunman hiding near a trash can, according to Anaheim Police Department Lt. Tim Schmidt.
The man, identified as 21-year-old Robert Moreno Jr., opened fire on Bruno and officers before he was shot and killed, authorities said.
The bullet exited Bruno's jaw and entered his chest before stopping near his heart, according to a Facebook post from the Friends of the Anaheim Police K9 Association, a non-profit that was raising money to help cover his medical expenses.
Bruno had surgery at the Yorba Linda Regional Animal Hospital Thursday night.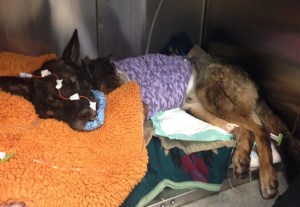 During the three-hour operation, surgeons removed a portion of his lung and reconstructed his jaw, which has been shattered, Anaheim police Capt. Bob Conklin said, according to the blog post.
Conklin added that the bullet "missed his aorta by less than an inch."
Bruno's partner, Officer R.J. Young, stayed with the dog throughout the night after his surgery, according to Schmidt.
"The impact on him — that dog is like a child to his family," Schmidt said Friday morning of the relationship between Bruno and his partner. "He's devastated by it."
By Friday night, Bruno had shown "steady progress" and was much more "alert and attentive" to his surroundings, a tweet from Anaheim police stated.  He was also able to sit up.
"His vital signs were stable," Conklin said, according to the blog post. "The next 18 hours are crucial. The hospital did an amazing job."
Since the incident Thursday, Anaheim police have lauded Bruno for his heroic performance in action.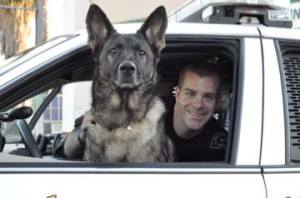 Bruno is "a tough dog who did his job well yesterday," Anaheim police Capt.  Mark Cyprien said, according to the blog post. "He's a hero."
On Thursday, Schmidt credited the dog with saving the lives of three officers.
Bruno, 7, is a six-year veteran, and Anaheim's most senior K-9 officer, according to the blog post.
The city was paying for Bruno's medical expenses, but those costs will shift to his handler once Bruno retires, according to the Friends of the Anaheim Police K9 Association.
Anyone interested in donating to Bruno's care could do so through the association's Facebook page, the Anaheim Police Department tweeted.