This is an archived article and the information in the article may be outdated. Please look at the time stamp on the story to see when it was last updated.
During a confession with police, the man accused of six fatal stabbings across Orange County described a so-called "kill gene" in his body that led to the fatal attacks.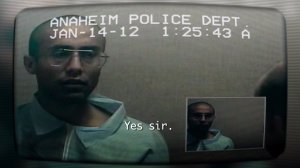 In the newly released video obtained by KTLA, former Marine Itzcoatl "Izzy" Ocampo mentioned the trait — which may have been a reference to something more commonly referred to as the "warrior gene" — to the lead investigator.
"Did you feel sexually aroused when you were doing this?" Anaheim police Sgt. Daron Wyatt said.
"No, sir," Ocampo said.
"How about afterwards?" Wyatt said.
"Sexually aroused? No sir," Ocampo said. "But I felt weird … the f——- kill gene like hit my sperm. Like, that's the way I feel right now, like my sperm have f——- kill in them. Like all right, you're not a b—- anymore."
Update: More of the Ocampo interview will air during the KTLA 5 News on Thursday at 10 p.m.
Four of Ocampo's victims were homeless men, a theme addressed during the confession.
"Why did it have to be done, to satisfy your need?" Wyatt said.
"No, not only did I make the county look bad or the state, they were making the place look bad also…" Ocampo said.
"So really what you were doing is you were helping clean up the county, clean up the area?" Wyatt said.
"In a way, sir, yes," Ocampo said.
Ocampo died while in custody in November 2013. His attorney said Ocampo committed suicide, but a formal investigation into the death was still ongoing.