This is an archived article and the information in the article may be outdated. Please look at the time stamp on the story to see when it was last updated.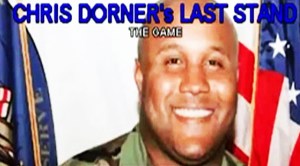 LOS ANGELES (KTLA) – In the wake of quadruple-murder suspect Christopher Dorner's death in a cabin near Big Bear, some are perversely making him out to be some sort of larger-than-life mythical folk figure.
And now, the latest twist:  there's a new video game featuring the vengeful cop-killer as a hero.
The video game is called 'Chris Dorner's Last Stand:  A True American Hero.'
The on-line community that created the game is named 4-Chan.
In the shoot-'em-up style game, the player plays as if he were Dorner, and the goal — dripping with anti-law enforcement sentiment — is to shoot and kill police officers.
Play in the game begins with Dorner in a secluded cabin, which features a portrait of Charlie Sheen on the wall.  Dorner is armed with an assault rifle.
Arnold Schwarzenegger is inserted into the game as one of Dorner's enemies.
In addition to the violence, the game is rife with racist overtones.
Critics of the game are describing it as sick and anti-American.
While a book and TV movie about Dorner's reign of terror are in the works and are no surprise to anyone, the creation of the controversial, inflammatory video game has caught many by surprise.