This is an archived article and the information in the article may be outdated. Please look at the time stamp on the story to see when it was last updated.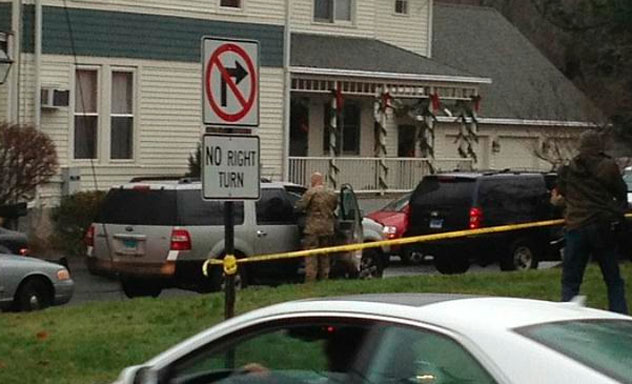 NEWTOWN, Conn. – It was meant to be a day of mourning, but parishioners inside a Catholic Church here had their fears renewed Sunday when a bomb threat forced a mid-morning evacuation and a SWAT team converged and surrounded a rectory.
The threat, which came during morning services, was "a menacing call that threatened to disrupt the Mass in a violent way," said Brian Wallace, a spokesman for the local diocese.
As parishioners filed out of St. Rose of Lima Church, there was a swell of raw emotion — disappointment, distress, anger and sadness, Wallace said. But no panic.
Eight of the children who were killed in Friday's shooting rampage at nearby Sandy Hook Elementary School had attended the church and some congregants are in the midst of planning funerals in the days to come.
Sunday's Mass was among the largest gatherings in a town still staggering under the weight of tragedy.
Father Luke Suarez was giving the homily during the noon Mass when the bomb threat was made, a threat that police felt was serious enough that the service should be interrupted. Msgr. Robert Weiss interrupted the sermon to dismiss the congregation.
Though police gave the all-clear shortly after the evacuation, the church was locked up for the day in an effort to "restore calm." The church will reopen for Mass Monday morning.
"This is a very difficult time for all the families. We have seen incredible dignity in the faces of these people," Wallace said, adding "I don't think anyone can be surprised about anything after what has happened."
Wallace said it was an especially wrenching morning for church members.
"The parishioners have just endured so much," he said. "The priority now is to counsel the families that have lost children" and loved ones.
Los Angeles Times