This is an archived article and the information in the article may be outdated. Please look at the time stamp on the story to see when it was last updated.
Authorities are investigating a shooting that involved two children at a restaurant in Newnan, Georgia.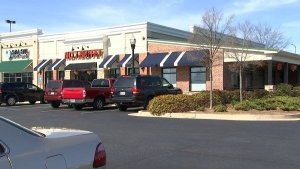 According to police, a 2-year-old pulled the trigger of a gun and accidentally injured his 11-year-old sister.
The girl was not shot by the bullet but was instead hit by a screw from the holster, WGCL reported.
Police identified the children's mother as 30-year-old Jennifer Cotton.
She told police her son reached in her purse and pulled out her 9 mm gun and pulled the trigger.
The victim was taken to a children's hospital where she had surgery to remove the screw.
The mother has not been charged but police say she could be facing a reckless conduct charge.