This is an archived article and the information in the article may be outdated. Please look at the time stamp on the story to see when it was last updated.
An investigation continued Monday into the accidental shooting death of a 14-year-old boy by his father at a firing range in Sarasota, Florida, authorities said.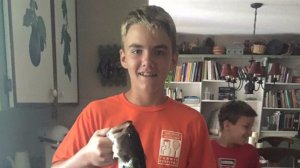 The incident took place about 3:15 p.m. Sunday at the High Noon Gun Range, where 64-year-old William Brumby was with his 12-year-old daughter and two sons: one 24, the other the teenage victim, Stephen Brumby, according to a statement from the Sarasota County Sheriff's Office.
After interviewing witnesses and reviewing surveillance video from the business, detectives deemed the fatal shooting accidental, the Sheriff's Office said.
According to the news release, the elder Brumby was in "the last shooting lane where there was a solid wall on his right-hand side." After he fired a round, the spent shell-casing ricocheted off the wall and fell into the back of his shirt.
The man "then used his right hand, which was holding the handgun, in an attempt to remove the casing," the statement said. "While doing so, he inadvertently pointed the firearm directly behind him and accidentally fired."
The round struck Stephen, who was rushed to a Sarasota Memorial Hospital, authorities said. He later died of his injuries. No one else was injured.
"No matter how calm you try and stay, there's no way to wipe the images away from your mind of your little brother bleeding out in your arms," David Brumby said in an interview with WPTV.
The 24-year-old told the TV station that he and his siblings had been to the gun range with their father many times in past.
"He wanted to train us on how to protect our family — to be loving and kind to everybody but to be able to protect it if something happens," David Brumby said.
No charges were pending against William Brumby as of Monday morning, according to the Sheriff's Office. The investigation was ongoing.
Stephen, the fourth of seven children, was "a meteor that couldn't be contained," said a statement on a GoFundMe page created in his honor.
The teenager loved fishing, tennis, music, archery and knife-throwing.
"He was passionate about his Lord and Savior Jesus Christ and dedicated his life to sharing this hope with everyone he met," the statement said. "The family's only comfort is knowing that he is communing with the heroes of his faith and rejoicing in paradise."