This is an archived article and the information in the article may be outdated. Please look at the time stamp on the story to see when it was last updated.
Three people, including a child, fell an estimated 15 feet from a Ferris wheel ride at a festival in Port Townsend, Washington, on Thursday.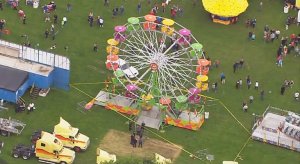 The three people had been in the same cart on the Ferris wheel, which had been set up for the Rhododendron Festival at Memorial Field, said Bill Beezley, a public information officer with the East Jefferson Fire Department.
The cart abruptly flipped and sent the three passengers up in the air, heading backward toward the ground, Beezley said. All three of them landed on the metal casing supporting the Ferris wheel on the ground.
The three people were transported via medical helicopter to Harborview Medical Center in Seattle. They were described as a 70-year-old woman, a woman in her 40s, and a six-year-old boy, according to Beezley. Their conditions are currently unknown.
One witness, Laura Lewis, had been on a different ride with her two kids at the festival when she said she saw one of the buckets in the Ferris wheel flip and dump three people out.
She estimated that the people were about 15 to 20 feet from the platform when the bucket flipped and said it appeared that they were propelled higher than the bucket itself.
The Ferris wheel had been moving in a counter clockwise rotation, and the affected cart had just come around the top of the ride near the "8 o'clock" rotation of the wheel, when the accident occurred, she said.
"People on the ride began screaming," Lewis said. "And people watching the ride started screaming. It took a few seconds for the ride operator to stop the ride."
She estimated that about 15 people were riding the Ferris wheel at the time and described it as a "violent accident."
Washington State's Labor and Industries Department is investigating, reported CNN affiliate KIRO.
Police were told the ride made a grinding sound and something fell out when the cart tipped over, the Seattle-based station reported.