This is an archived article and the information in the article may be outdated. Please look at the time stamp on the story to see when it was last updated.
It's not an exaggeration to say almost every home in little Sutherland Springs, Texas, was affected by Sunday's shooting at First Baptist Church.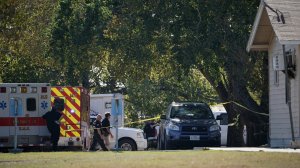 The small church is an anchor in the unincorporated community, which has about 600 residents. Its members help feed the needy and clean up neighbors' property after storms.
So when a gunman opened fire during church services, killing at least 26 people, he wiped out some 4% of the town's population in a matter of minutes.
At least 20 others were injured in the massacre. And Sutherland Springs' surviving residents are left to mourn their slain neighbors and wonder if the town will ever be the same.
"Oh yes. I'm sure they have been," said Wilson County Sheriff Joe Tackitt when asked if virtually every house in the community had been touched by the tragedy. "You can't imagine how (the families) feel at this time."
Tackitt said there was no way for anyone inside the church to escape the hail of bullets.
"I think nearly everyone had some type of injury," he said.
A focal point
The small church is a focal point in the community, which lies about 30 miles east of San Antonio. First Baptist's youth group visits local nursing homes and helps residents in need. The church hosts kids' movie nights and a popular community festival and opens its doors for weekly dinners.
In one of several sermons posted online, Frank Pomeroy — the church's motorcycle-riding pastor — used an image of a Harley-Davidson parked near the altar to illustrate his theme for the service, entitled "You Don't Need Training Wheels, You Need Christ!"
"They don't have a lot of money, but they are always willing to give," said Mike Clements, who pastors a church in nearby Floresville also named First Baptist Church. "These people are merciful people. A lot of them will be forgiving with what happened."
'A lot of children died today'
Authorities have not yet released the identities of the victims who died in the shooting. Pomeroy's 14-year-old daughter was among the dead, said his wife, the girl's mother. The couple was traveling out of state when the shooting occurred.
"I think a lot of children died today. And they just wanted to go to church," Clements said.
At least eight of those killed were members of one family, according to a family member and a community leader who both spoke to CNN.
One of the deceased was about 5 months pregnant, and three of her children were killed. The pregnant woman's brother-in-law — her husband's brother — and a young child were also killed, according to the community leader.
An additional 3 members of the same family were injured in the church shooting, according to the community leader. The family member tells CNN that one of them was shot in the head.
Sutherland Springs native Tambria Read, 59, a high school teacher who grew up in First Baptist, said two of her students in the seventh and 10th grades were in surgery late Sunday. Parents of other students were among the dead, she said.
Read no longer attends the church, but remains close to the congregation. She said First Baptist opens its doors to the public on Thursday for dinner and worship. Members "hope you stay, but you don't have to," she said.
Last Tuesday, Read dropped off candy for the church's fall festival, scheduled for Halloween, where children usually sing and pray and scamper around in egg-in-a-spoon races "instead of scaring each other," she said.
"It's an alternative to Halloween ghosts and goblins," she said.
A historic church
First Baptist is the oldest church that has continuously operated in the rural community of Sutherland Springs, said Read, chairwoman of the Sutherland Springs Historical Museum.
The community draws its name from Dr. John Sutherland, a doctor who tended to the sick during the Battle of the Alamo in 1836. Four years later, he moved his family to what would become Sutherland Springs, according to the Sutherland Springs History Museum's web site.
Sutherland became the community's postmaster, the website said.
These days, weekenders drive along Route 87, the main drag in Sutherland Springs, pulling cruising boats on trailers on the way to the coast.
Dana Fletcher, who owns a business down the road from the church, told CNN that Sutherland Springs is a "very small" but "very tight-knit community."
"There's two gas stations, the church, a community center, post office, a Dollar General, a tire shop," she said. "That's about it."
'My God, my God'
During last week's service, Pomeroy showed a video of a motorcyclist leaning into a turn, before citing a scripture from Proverbs: "Trust in the Lord with all your heart and lean not on your own understanding."
"Lean on the Lord. Though it may not make sense in our finite mind, just as leaning into a turn may not make sense," Pomeroy told the congregation. "Leaning into God is the way we should go, because God's got it figured out whether we do or not."
After the shooting, people flooded the church's Facebook page with messages of condolence.
"My God, my God … How my heart goes out for this dear congregation," one person wrote.
A woman in Charleston, South Carolina, where a self-described white supremacist killed nine members of a historically black church during Bible study in June 2015, sent prayers to the congregation and the affected families.
"I pray that your community comes together as we did and are still doing here," she wrote.