This is an archived article and the information in the article may be outdated. Please look at the time stamp on the story to see when it was last updated.
For the first time, the World Health Organization has officially confirmed air pollution as a leading cause of cancer.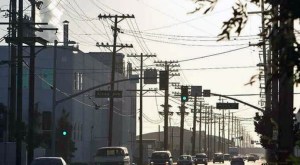 The organization announced Thursday that scientists had sufficient evidence to classify outdoor air pollution as "carcinogenic to humans," and cited it as the cause of an estimated 223,000 lung cancer deaths worldwide in 2010 alone.
"The air we breathe has become polluted with a mixture of cancer-causing substances," said Dr. Kurt Straif, a member of WHO's International Agency for Research on Cancer.
According to the research agency, the most predominant sources of outdoor air pollution are transportation, industrial and agricultural emissions, stationary power generation, and residential heating and cooking.
Breathing in these airborne toxins is detrimental in more ways than one: air pollution also increases the risk of respiratory and heart diseases, along with multiple other illnesses, the organization said.
For those living in heavily polluted areas — including parts of Southern California — the risk of developing lung cancer is "significantly increased," Dr. Dana Loomis said.
Proving a link between air pollution and lung cancer is an important step towards finding a solution, International Agency for Research on Cancer Director Christopher Wild said.
"There are effective ways to reduce air pollution," Wild said. "Given the scale of the exposure affecting people worldwide, this report should send a strong signal to the international community to take action without further delay."