This is an archived article and the information in the article may be outdated. Please look at the time stamp on the story to see when it was last updated.
A high school senior in Alabama got more than his diploma when he graduated from Paul W. Bryant High School in Tuscaloosa over the weekend.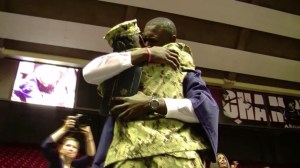 As Steven Turner Jr. walked up to the stage to get his diploma, he was surprised by his mother, U.S. Navy Petty Officer 2nd Class Vera Turner. She had been deployed for the past nine months in Guantanamo Bay, and he hadn't seen her since she left, according to CNN affiliate WBMA.
Steven Turner rushed up to his mother, embraced her and burst into tears during the emotional reunion, video from the ceremony showed. Vera Turner in turn told her son she was proud of him.
"It means so much to me, it means the whole world. I thought she wasn't going to make it," Steven Turner told the television station.
Vera Turner had earlier told her son she would be unable to attend his graduation.
Instead, she secretly planned the surprise with the help of the school district about a month before the scheduled ceremony. The rest of her family wasn't even aware Turner would be at the ceremony on Saturday, according to the station.
For Steven Turner, it turned out to be the best graduation gift he could have received.
"All he could say was 'Mama, thank you. Thank you, mama. Thank you. I love you," Vera Turner said.