This is an archived article and the information in the article may be outdated. Please look at the time stamp on the story to see when it was last updated.
Amazon will be hiring 120,000 seasonal workers for the upcoming holidays across the U.S., including in California, the online retailer announced Thursday.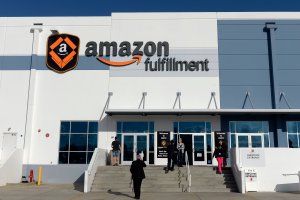 The positions are available at the company's network of fulfillment centers and customer service sites, according to a company a news release.
"This is our favorite time of year—we love serving customers during the busy holiday season and we're excited to bring on more than 120,000 seasonal employees this year to support growing customer demand," Mike Roth, Amazon Vice President of Global Customer Fulfillment, said in the release.
More than 14,000 seasonal workers were promoted to full-time roles after the holidays last year, the company noted.
"We expect to increase that number this year," Roth said.
The positions available in Southern California are in San Bernardino, Moreno Valley and Eastvale, the website showed. The jobs pay between $11.75 and $12.75.
More than 10,000 seasonal associated were expected to be hired in the state, though the retailer did not specify how many of those positions will be at its Southern California facilities.
Amazon is also looking to hire in Arizona, Colorado, Connecticut, Delaware, Florida, Georgia, Illinois, Indiana, Kansas, Kentucky, Maryland, Massachusetts, Michigan, Minnesota, Nevada, New Hampshire, New Jersey, Ohio, Pennsylvania, South Carolina, Tennessee, Texas, Virginia, Washington, West Virginia and Wisconsin.
The company has already hired tens of thousands of full-time employees this year at it U.S. fulfillment and customer service centers, according to the company. Amazon officials say the vast majority of its associates — roughly 90 percent — work for the company full time.
Those employees receive "competitive wages and comprehensive benefits," such as healthcare and a 401(k), along with stock awards and bonuses.
Anyone interested in a seasonal position within the company is encouraged to apply at www.amazon.com/seasonal.