This is an archived article and the information in the article may be outdated. Please look at the time stamp on the story to see when it was last updated.
A 62-year-old Arizona man was arrested last week after allegedly trying to sneak meth that was hidden in packages of tortillas through the Port of Nogales, officials said Monday.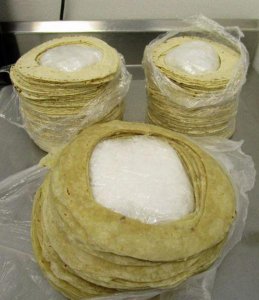 The officers were working with a CBP narcotics-detention canine on Friday when they discovered the drugs at the Morley Pedestrian crossing, according to a U.S. Customs and Border Protection news release.
The packages contained an estimated three pounds of meth, the release stated.
In a separate incident, a 23-year-old man was arrested Saturday after officers uncovered close to 26 pounds of meth in an SUV at the Dennis DeConcini crossing, authorities said.
Together, the drugs had an estimated value of about $87,000.
Authorities have not released the names of the two men, who were turned over to the U.S. Immigration and Customs Enforcement's Homeland Security Investigations, according to the release.