This is an archived article and the information in the article may be outdated. Please look at the time stamp on the story to see when it was last updated.
[protected-iframe id="d671c82053a02d99e7c487cd6ec35e67-41641936-58900479″ info="https://assets.scrippsdigital.com/cms/videoIframe.html?&host=www.abc15.com&title=Valley%20man%20brought%20back%20to%20life%20after%20apparent%20artery%20blockage%20kills%20him&kw=%26kw%3Dcentral_phoenix%26kw%3Dphoenix_metro&uid=e3a8183e523943d3a06d85e8e9d9d591&purl=/news/region-phoenix-metro/central-phoenix/valley-man-brought-back-to-life-after-apparent-artery-blockage-kills-him&story=1&ex=1&s=knxv" style="position:relative;" class="scripps_iframe_embed"]
Bruce Brown, an attorney in Arizona, doesn't remember much about the day he collapsed and "died" while at work.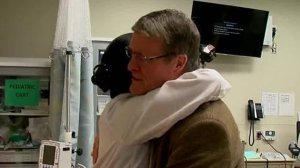 "They actually shocked me three times at the courthouse and could not get a rhythm going again," Brown told Phoenix television station KNXV Friday.
Paramedics rushed him to Banner University Medical Center in Phoenix, desperate to save him on the way.
"They never had anyone die 13 times in the truck while they were transporting me," he said.
By the time Brown arrived at the hospital, his heart had been shocked 19 times, but he still wasn't "alive," according to the station.
"I collapsed and died for an hour and 56 minutes," Brown said.
He had no warning that day — in fact, he had just been given a clean bill of health.
Brown loves to hike, hunt and go camping; he's pretty active, so doctors had to figure out why his heart stopped.
"'We would shock you once. Your heart would beat once. You'd gasp once or twice so you're obviously trying to come back and then you'd die again,'" Brown recalled doctors saying.
That was a year ago. Now given a second chance at life, Brown met with Dr. Teresa Wu — the woman he credits with saving him — during the holidays.
"It's stories like Bruce's that keep us going, that remind us why we do what we do and how we can give back in such a meaningful way," Wu said.
Brown eventually got back to life as normal with his wife Terri and their two children. His outlook on life, though, has certainly changed, and he says he's thankful for each breath he takes.