This is an archived article and the information in the article may be outdated. Please look at the time stamp on the story to see when it was last updated.
A federal judge on Tuesday ordered Arizona Sheriff Joe Arpaio to be tried on a criminal contempt charge, accusing him of disobeying a court order in a racial profiling case.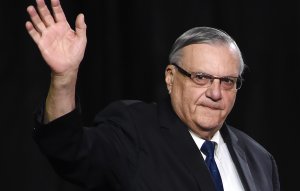 U.S. District Judge Susan Bolton's order comes after U.S. District Judge G. Murray Snow asked the U.S. Attorney's Office to file the criminal contempt charges against Arpaio, who bills himself as "America's Toughest Sheriff," and several subordinates.
Snow in May found Arpaio and three members of his office to be in civil contempt because they allegedly violated court orders intended to keep the Maricopa County Sheriff's Office from racially profiling Latinos. Snow wrote in August that continued failure to follow the court's directions, along with false statements and attempts to obstruct further inquiry, now justified filing criminal contempt charges.
Bolton ordered Arpaio's trial for December 6 in Phoenix, court papers said. Arpaio could face fines and even jail time, if convicted.
His attorney didn't immediately return a telephone call or email seeking comment Tuesday night.
The criminal contempt charge stems from a 2007 lawsuit brought by Hispanics, who claim Arpaio had discriminated against them.
Among the plaintiffs was Manuel Ortega Melendres, a visitor to Arizona who possessed a valid visa. In 2007, he was arrested after the car he was riding in was pulled over by Maricopa County deputies. The lawsuit alleged that the sheriff's office "unlawfully instituted a pattern and practice of targeting Latino's drivers and passengers in Maricopa county during traffic stops," the ACLU said in a statement.
A federal investigation of the sheriff's office later found that it engaged in discriminatory policing and jail practices. The sheriff's office was notified of the formal federal investigation in March 2009 and for 18 months "consistently refused to cooperate" with it, the Justice Department said.
As a result, in September 2010, the federal government sued Maricopa County under Title VI of the 1964 Civil Rights Act.
During the investigation, the Justice Department found that deputies "engaged in a widespread pattern or practice of law enforcement and jail activities that discriminated against Latinos," according to a December 2011 letter of finding by the department.
In May of 2013, Snow ruled that Maricopa County's handling of people of Latino descent was not thorough enforcement of immigration laws — but instead amounted to racial and ethnic profiling.
On Wednesday, Bolton wrote that Snow in 2011 had prohibited Arpaio and sheriff's office "from enforcing federal civil immigration law or from detaining persons they believed to be in the country without authorization but against whom they had no state charges."
But the sheriff's office "continued to stop and detain persons based on factors including their race, and frequently delivered such persons to (U.S. Immigration and Customs Enforcement) when there were no state charges to bring against them," Bolton wrote.
Arpaio's hard stance on immigration and his aggressive roundup of undocumented immigrants has garnered him national attention, and a conservative following. In 1993, he established an outdoor prison consisting of tents, saying it saved the taxpayers money despite criticism that the conditions were inhumane.
A staunch supporter of GOP presidential nominee Donald Trump, Arpaio has insisted that President Barack Obama is not a US citizen and that his birth certificate is fraudulent. Arpaio said last month he wasn't abandoning his 'birther' investigation even though Trump said he now believed the President Obama was born in the United States.