This is an archived article and the information in the article may be outdated. Please look at the time stamp on the story to see when it was last updated.
A 3-year-old Arizona girl who was hospitalized after allegedly being abused by her mother's boyfriend has died, and the 33-year-old man has been arrested, according to multiple reports.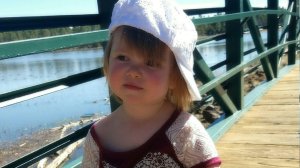 Relatives of Morgan Koepp confirmed Wednesday that she was taken off support, three days after being admitted to the hospital, television station KSAZ in Phoenix reported.
The mother had left the toddler with her boyfriend for most of the day Sunday while she was out, according to Phoenix television station KTVK, citing court documents.
She had tried to reach him by phone all day, but was unable to, according to a GoFundMe page initially set up to pay for the child's medical expenses. When they returned home, the mother — identified in the fundraising account as Brianna Williams — noticed the little girl's face was swollen near her mouth and cheek.
She then took her daughter to Phoenix Children's Hospital where medical personnel found her suffering from broken ribs and bruises on her back and torso, KTVK reported.
Hours after arriving at the hospital, Morgan was moved to the intensive care unit, where her heart failed, according to the GoFundMe.
"She had cardiac arrest," Tim Williams, Morgan's grandfather, told KSAZ. "They had to bring her back. She went into another cardiac arrest. They had to put a machine on her to keep her alive."
Morgan underwent multiple surgeries, including one to remove what turned out to be a flesh-eating bacteria.
"It's a necrotizing soft tissue infection that opened up when she got hit or punched or whatever she did, and it spread throughout her body," Tim Williams said.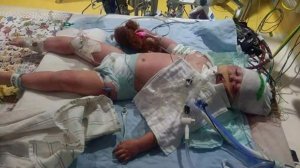 Morgan died on Wednesday.
A letter from the grieving mother to her daughter was posted mid-afternoon to the GoFundMe account.
"To my beautiful baby girl who taught me so much in these last 3 years. I saw you fighting and fighting as hard as you could. I saw how much pain you were in and I am so sorry you had to endure such a tragedy," the letter read. "Its breaks my heart and to see you laying there fighting so hard for mommy shows me how much you tried and how much you love me. I hate that I will never be able to watch you grow and see you again or hold you again until I one day get to heaven. But I am able to keep going because I know you are now resting in a better place."
Meanwhile, police arrested Sidney Michael Landers Monday morning on suspicion of child abuse, according to KTVK. Landers, who is not from Arizona, was apprehended after trying to flee officers who had showed up at his home to make the arrest.
During an interview with investigators, Landers told police he became "frustrated" with Morgan after she had multiple accidents in her pants, but that he had not intended to hurt the girl, the station reported, citing the court documents.
"The defendant stated he held his hand over the victim's mouth when she was screaming during her diaper change," the document stated. "The defendant stated he had to use force to hold the victim to change her diaper …. The defendant stated he did not mean to cause the injuries but was frustrated."
Landers had not been charged with any additional offenses when he made his first court appearance, but a police official told KTVK the department would recommend homicide charges in the case.