This is an archived article and the information in the article may be outdated. Please look at the time stamp on the story to see when it was last updated.
The US Army is awarding medals for heroism to three students killed in last week's school shooting in Parkland, Florida.
Alaina Petty, Peter Wang and Martin Duque, all students at Marjory Stoneman Douglas High School, were also cadets in the school's Junior Reserve Officers' Training Corps program and will receive the Medal of Heroism for their actions in last Wednesday's shooting.
Petty's family was presented with her medal at her funeral service Monday, and Wang's family was due to receive his medal at his service Tuesday morning, where Wang was to be buried in his JROTC uniform, according to Army spokesman Michael Maddox.
"The JROTC Heroism medal will be on his uniform, but a second 'keepsake' medal," will be given to the Wang family, Maddox said.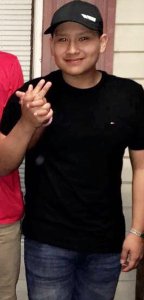 Duque's family will be presented with his medal during a service on Saturday.
Separately, the United States Military Academy at West Point announced Tuesday it would posthumously offer acceptance to Wang, according to a statement from the academy.
"Peter Wang, an Army Junior Reserve Officer Training Corps cadet at Marjory Stoneman Douglas High School, had a lifetime goal to attend USMA and was posthumously offered admission for his heroic actions on Feb. 14, 2018," the statement said.
Wang was shot repeatedly while holding a door open to let other people escape. "He died a gentleman holding the door for other students," his classmate Kelsey Friend told CNN after the shooting.
Awards for other possible cadets are going through the review process. Maddox said the current focus is on "supporting the funerals and dignity and honor, so deserved by these cadets and their families."
According to the Army, the Medal of Heroism is awarded to a JROTC cadet "who performs an act of heroism."
"The achievement must be an accomplishment so exceptional and outstanding that it clearly sets the individual apart from fellow students or from other persons in similar circumstances," according to the criteria laid out by the Army. "The performance must have involved the acceptance of danger and extraordinary responsibilities, exemplifying praiseworthy fortitude and courage."
Seventeen people were killed in the shooting.
One of USMA's priorities is to develop leaders of character who are committed to the values of Duty, Honor & Country. Peter Wang's actions on February 14 are an example of those principles & the academy honors his dream of being a West Point cadet with a 2025 letter of acceptance pic.twitter.com/fycvJBhte8

— U.S. Military Academy at West Point (@WestPoint_USMA) February 20, 2018
Thousands have signed a White House petition asking for Peter Wang, a 15-year-old JROTC cadet who died in the Florida school shooting, to be buried with military honors https://t.co/gxdQy7fBzP pic.twitter.com/3yw3BH7Pc0

— CNN (@CNN) February 19, 2018