This is an archived article and the information in the article may be outdated. Please look at the time stamp on the story to see when it was last updated.
At least 30 people were confirmed killed and several others injured when a bus collided with a truck on a road in central Kenya, the country's President said.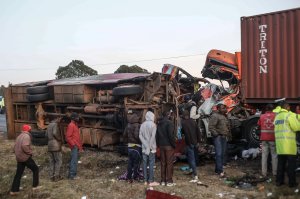 The crash happened early Sunday as the Nairobi-bound bus was traveling along the Nakuru-Eldoret highway.
In a statement, President Uhuru Kenyatta expressed his condolences to the families and friends of passengers involved in the road accident at Migaa near Molo, a town in Nakuru County north of Nairobi.
"The President said it was unfortunate that many Kenyans have continued to lose their lives in road accidents, which can be avoided," the statement read.
Twenty-eight bodies had so far been recovered from the bus wreckage as well as the body of the truck driver, according to the Kenya Broadcasting Corporation (KBC).
Rescue operations continued at the scene of the accident, with injured passengers transported to Molo Sub-County Hospital and Nakuru Level Five Hospital for treatment, KBC reported.
President Kenyatta wished the injured a quick recovery and called upon drivers to be vigilant on the roads over the holiday period.
"Let us all be responsible this festive season, and more so, those of us who are driving," Kenyatta said, according to the statement.