This is an archived article and the information in the article may be outdated. Please look at the time stamp on the story to see when it was last updated.
Authorities in Las Vegas have released more documents from the investigation into the October 2017 shooting in which 58 people were killed and almost 500 others were wounded.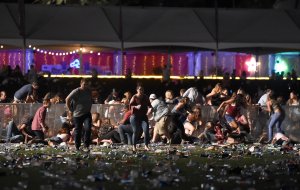 CNN is looking through the documents and will report important developments from their contents.
Documents released Wednesday include witness statements from people attending the concert, headlined by country star Jason Aldean.
One man described taking cover to the right of the stage once he and others heard gunshots. The witness, whose name was redacted, said he ran during breaks in the gunfire.
"Then on the third round of shots is when I got, I got hit running, right in the back," he told an investigator.
The man and his friends ran again until he couldn't go on. Someone carried him to an ambulance, he said.
He wasn't the only one who needed to get to a hospital.
A law enforcement officer came along and "threw me and several other people" into the bed of a pickup and sped them to a hospital.
Authorities do not know why on October 1 Stephen Paddock fired indiscriminately from a hotel room at 22,000 concertgoers attending the Route 91 Harvest Festival. It became the deadliest mass shooting in modern US history.
Paddock, who killed himself, acted alone, police have said.
This is the second in a series of investigation materials made public after media organizations, including CNN, went to court petitioning for their release.
Earlier this month, Las Vegas police released nearly three hours of body camera footage, providing details on the officers' actions after the shooting.
The footage captured the moments before and after they entered the gunman's room.
Developing story – more to come