This is an archived article and the information in the article may be outdated. Please look at the time stamp on the story to see when it was last updated.
Swedish superstar DJ Avicii made millions dance with his catchy hits, flashing lights and soulful collaborations.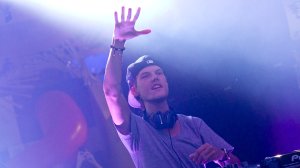 But despite a life of jam-packed arenas and screaming fans, he constantly struggled with fame and health issues. So much so, two years before he died at 28, he took a break from touring and the exhausting lifestyle that comes with it.
In messages posted on social media, Avicii, whose real name is Tim Bergling, said stress, anxiety and illness were a factor in his decision.
Avicii was one of the most successful touring DJs in the industry, working with artists such as Madonna and Chris Martin. He had a crossover pop hit in 2013 with "Wake Me Up," and was a big name in the electronic dance music genre known as EDM.
Last live show
In August 2016, he said goodbye to his fans in what he described as his last live show. The decision to retire from touring was tough, he said, but he needed to step away and pursue other interests.
"Creating music is what makes me happy and I have gotten to know so many great people in my days of touring, seen so many amazing places and created endless of good memories," he posted on social media at the time.
"The decision I made might seem odd to some but everyone is different and for me this was the right one."
Partying and anxiety
Avicii said his more than 800 shows had taken a toll on him, added to his anxiety and drawn him to a life of partying. He also had several health scares, including acute pancreatitis, which he blamed on excessive drinking.
"Yeah I was drinking way too much, partying in general way too much," he said. "Then I got a pancreatitis attack [at 21], which is very rare. So that forced me to do a 180 and stop drinking."
Fans left him supportive messages on Facebook after he stopped touring, with some expressing regret that they did not get a chance to see him live.
He reassured them that he'll continue making music — in the studio.
And in August 2017, a year after his last tour date, he announced that he was releasing a new album.
"Really excited to be back with music once again, it has been a long time since I released anything," he posted on social media.
"My focus on this first EP of the album was to get a mix of new and old songs, some that fans have been asking about/waiting for mixed with brand new songs that they haven't heard before."
'Avicii: True Stories'
The DJ had been open about his struggles. A documentary about his life, "Avicii: True Stories," highlighted some of his struggles with fame after his 2011 hit song, "Levels," followed by "Wake Me Up" two years later.
"The year of 2015 should have been a peak for the producer, but behind the scenes, it was too much. Stress, anxiety and illness were eating him away," a synopsis of the documentary posted on his site says.
Filmmaker Levan Tsikurishvili describes the documentary as a "cautionary tale that explores the taxing nature and intensity of fame" from the artist's perspective.
"Everybody knows Avicii but very few people know Tim," Tsikurishvili said. " I think this documentary really shows Tim's struggle and strength of character. Being a worldwide superstar artist is not as easy as it looks on Instagram."
Avicii was found dead Friday in Muscat, Oman. The cause of death has not been released.
Fans and musicians mourn
Heartfelt tributes poured in from fellow musicians and fans alike.
"Devastating news about Avicii, a beautiful soul, passionate and extremely talented with so much more to do," fellow superstar DJ Calvin Harris tweeted. "My heart goes out to his family. God bless you Tim."
Singer Wyclef Jean described him as "a little brother."
"In my darkest hour, I went to Sweden and he was there for me and we found light in great conversation and in music," Jean tweeted. " He will be forever be missed. This pain I cannot describe."