This is an archived article and the information in the article may be outdated. Please look at the time stamp on the story to see when it was last updated.
"We want Bernie" was the loudest cheer throughout the Wells Fargo Center as Bernie Sanders gave his much-anticipated address to the Democratic National Convention.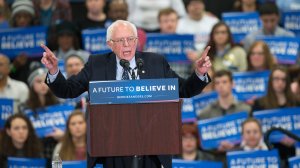 But some in the Michigan delegation were also shouting "Not for Sale! Not for Sale!" and "Cheaters! Cheaters!" during Sanders' speech. And Nearby, Sanders delegates wore blue tape over their mouths in protest.
Sanders gave a robust endorsement of his primary rival Monday night. "Hillary Clinton must become the next president of the United States." But it wasn't immediately enough for some of his supporters who spoke to CNN.
"They want us to fall in line and get behind Clinton," said Dianne Fowler, a delegate from Michigan who was wearing blue tape over her mouth that read: "Silenced by the DNC."
Fowler won't fall in line, she said through her tape, "with what's coming out: the lying, the sabotage of Sanders campaign, and questions about the integrity of the voting."
The Michigan delegate added that she would not vote for Clinton because "she's a war hawk." (Throughout the night, some Sanders supporters shouted "war hawk" at various points when Clinton was mentioned).
Fowler was among the delegates who heard from Sanders directly in person on Monday: "What I took away from it was he wants us to continue the revolution, and part of that is civil disobedience," she said.
Tuesday, the convention will hold the roll call vote officially making Clinton the Democratic nominee. But until that moment happens, some Sanders supporters in the crowd are holding out hope that she will not end up as the nominee this week.
One of them was Sanjay Patel of Satellite Beach, Florida, who was wearing a handmade electric suit jacket with the message "Feel the Bern" illuminated by LED lights on his back.
It took him three days to make the jacket with 150 hand-grommetted holes, an X-Acto knife and LED lights. It's powered by a battery pack on the inside pocket of his jacket.
Patel called his electric jacket "a work of art." "I had a vision… Bernie has inspired us. Through this movement we've all made really beautiful works of art, this was just one more piece to contribute to that movement."
"It's going to be up to the superdelegates — and I just hope they vote with their conscience and what's in the best interest of our country, because Bernie Sanders is the only candidate who will defeat Donald Trump soundly," said Patel, a 39-year-old management consultant.
"Until it's official, I'm going to hold out hope," he said, adding that he hoped some superdelegates have changed their mind after seeing the internal DNC emails posted by Wikileaks.
"I want to see a legitimate process and the emails delegitimized the process — so for me that should leave an opening," said Patel, who said he would not support Trump in November, but Clinton would have to "earn my vote." At the moment, he said he does not trust Clinton to follow through on changes to the platform and had wanted a more progressive VP nominee.
Martha Kuhl, a nurse from Oakland, California, and a Sanders delegate, was yelling in support of Bernie the whole night.
"I think this speech was good because it highlighted all the issues we care about. One of the reason the nurses supported Bernie is because his platforms mirrored all the issues that we cared about," she said. "But at this point, this so no longer about Bernie. Like he said, it's about the movement and moving towards a more just society."
Kuhl would not say what she will do in November and even bristled at the question, insisting that Clinton has not yet received the nomination.
"I'm not talking about my personal likes at this point. Clinton hasn't even been nominated yet although you might not know it tonight," she said.
"No matter who's elected president we will push that president on the issues we've been campaigning for."
Despite distaste for Clinton, Patel said many delegates are afraid of Trump's growing strength in the polls. "I've knocked on literally thousands of doors and made thousands of phone calls for Sanders — Democrats' doors and phone calls — and it's terrifying how many of them have said they will vote for Trump. These are Democrats — and I live in a swing state."
"Right now this is an emotional time," Patel said. "If you talk to many of us Bernie supporters, we really still want to see Bernie as our nominee, and in the next couple of days and next couple of months we're going to have to see what her actions are."