This is an archived article and the information in the article may be outdated. Please look at the time stamp on the story to see when it was last updated.
This is not your usual weather forecast. Big storms are brewing. Your umbrella won't help, but you might want to keep a flashlight handy.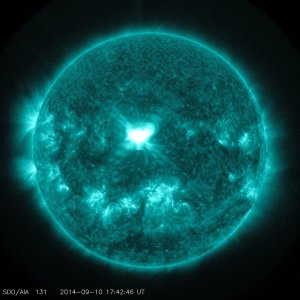 These storms are coming from the sun. It's raining down a huge amount of radiation. We're safe, but it could affect power grids, radios and satellites.
Experts say the combined energy from two recent solar events will arrive at Earth on Saturday, prompting the Space Weather Prediction Center to issue a strong geomagnetic storm watch.
Wait. What kind of watch? Basically, the sun is a giant ball of gas — 92.1% hydrogen and 7.8% helium. Every now and then it spits out a giant burst of radiation called a coronal mass ejection, or CME.
CMEs are sometimes associated with solar flares, the most explosive events in the solar system. The sun has released two CMEs in the past two days and both are linked to solar flares. NASA says the second flare is an X1.6 class, putting it in the most intense category.
The energy from those two CMEs is heading toward Earth.
RELATED: NASA explains recent solar flares, expected storm
Space weather experts aren't sure yet what this solar storm will do.
"This is a pretty strong solar storm and we just won't know until it gets here" what it will do, said CNN meteorologist Chad Myers.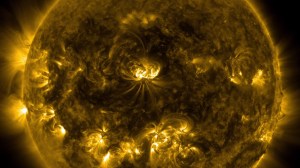 Earth's atmosphere usually protects us humans, but you might want to keep a flashlight handy. Solar storms can knock out power, interfere with GPS and radio communications — including those on commercial airliners — and they can damage satellites.
"People on the ground really don't have to worry," Lika Guhathakurta, a program scientist with NASA's Solar Dynamics Observatory, told CNN. She said solar storms don't impact humans on the ground, although astronauts could be at risk.
And our technology.
But don't worry too much. NASA can take steps to protect the crew members on the International Space Station and satellite operators can turn off sensitive sensors on satellites to mitigate the risk to your smartphones and wi-fi connection. There may be temporary glitches though, Guhathakurta says.
And if there is a major issue, scientists are taking precautions to make sure all the important parties are prepared.
"FEMA has been notified of these events just in case," Thomas Berger, director of NOAA's Space Weather Prediction Center, said at a Thursday news conference.
On March 13, 1989, a solar storm knocked out power for the entire province of Quebec for 12 hours. Power grids in the United States were impacted, but didn't have blackouts. NASA says some satellites tumbled out of control for hours during what's known as the Quebec Blackout. The space shuttle Discovery was in orbit at the time and had a mysterious sensor problem that went away after the storm, NASA says.
On the upside, solar storms also create beautiful aurora. Aurora watchers in the northern United States who are outside of major metropolitan areas should be watching the skies on Thursday and Friday nights.
People in the southern part of the nation are less likely to get the kind of splendid aurora sights that people in the Northeast and Alaska will see, but it might not hurt for them to take a glance at the sky anyway, just in case.
Although it won't be as intense a view as the one northerners will get, "if you want to take a look on Friday night, why not?" said Berger.