This is an archived article and the information in the article may be outdated. Please look at the time stamp on the story to see when it was last updated.
Black Lives Matter protesters temporarily blocked roads in Chicago, Minneapolis, San Francisco and Los Angeles as part of their "Black Xmas" demonstrations against what they described as an epidemic of police abuses.
Another demonstration was held in the Minneapolis area's Mall of America, where five people were arrested for various offenses such as trespassing, disorderly conduct and an unrelated outstanding arrest warrant, said Denis Otterness, deputy chief of the Bloomington Police Department. Eight more people were arrested at the airport, CNN affiliate WCCO reported.
On Christmas Eve in Chicago, more than 100 protesters marched through the high-end shopping district along North Michigan Avenue. They shouted "no justice, no profits," WGN reported.
In California, nine women were arrested Wednesday for briefly shutting down an exit ramp on U.S. Highway 101 to San Francisco International Airport, according to the California Highway Patrol.
"CHP has moved all protestors off of the freeway. Travelers will make it to the airport on-time," CHP Capt. Christopher Sherry said on Twitter. "There are many dangers associated with walking onto a busy freeway. There are also consequences that follow."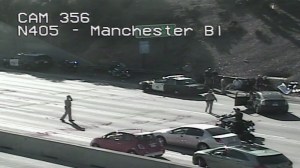 Also Wednesday afternoon, a group of protesters targeted the 405 Freeway near Los Angeles International Airport, blocking southbound lanes and spray-painting on the pavement. Nine people were arrested.
In Minnesota, Black Lives Matter activists formed a human chain and blocked roads to both terminals at Minneapolis-St. Paul International Airport, bringing holiday travelers to a temporary standstill.
Demonstrators also congregated inside Terminal 2, causing the federal Transportation Security Administration to shut down both security checkpoints there for 45 minutes, said Patrick Hogan, a spokesman for the Minneapolis airport.
"Protestors are departing the airport, and the situation here is slowly returning to normal. Some flights at Terminal 2 were delayed due to the fact that, with the security checkpoints closed, travelers couldn't get screened in order to get to their gates," Hogan said Wednesday afternoon.
A mile away earlier in the day, scores of protesters assembled inside Minneapolis' Mall of America, but police in riot gear and mall security officers dispersed the crowd, pushing them outside the shopping center.
Stores on the east side of the mall were closed Wednesday morning in expectation of the protest, two store managers told CNN. Customer traffic was also down Wednesday, they said.
Some of the dispersed protesters left the mall and boarded trains to the airport, CNN affiliate WCCO reported.
The airport had advised travelers to leave extra early because of the delays caused by protesters, the facility said on Twitter.
The activist group Black Lives Matter had planned demonstrations in six U.S cities on Wednesday, which it was calling "Black Xmas" and a national day of action.
The activists accuse police agencies nationwide of bias against the black community.
"Today, on one of the busiest days of the holiday season, black communities across the United States are taking brave actions to impede the flow of goods and commerce with peaceful protests to call for an immediate overhaul of the justice system both locally and nationally that will demand accountability for police, removal of grand juries in cases involving police shootings, an immediate halt to militarized police units and weapons, and extensive review of racialized police practices in black neighborhoods," the group said.
CPD and protesters at h and m. @WGNNews pic.twitter.com/Lk56KXLKTi

— Erik Runge (@WGNErik) December 24, 2015