This is an archived article and the information in the article may be outdated. Please look at the time stamp on the story to see when it was last updated.
US Customs and Border Protection officers seized nearly two tons of marijuana packed in phony limes near the Texas-Mexico border last week, according to authorities.
The 3,947 pounds of weed came through a commercial shipment of key limes in Pharr, Texas, on Jan. 30, officials said.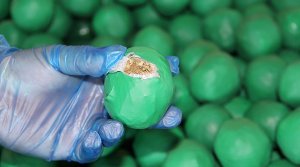 The truck hauling the "produce" crossed the Pharr-Reynosa International Bridge along the Texas-Mexico border near the Gulf of Mexico. Over 34,000 of the fake fruit packages were discovered by an imaging inspection system and narcotics K-9 team.
"This is an outstanding interception of narcotics. Our CBP officers continue to excel in their knowledge of smuggling techniques, which allows them to intercept these kinds of attempts to introduce narcotics into our country," said Port Director Efrain Solis Jr. in a statement.
The drugs are valued at approximately $789,467, according to the US Customs and Border Protection statement. The case is under investigation by the Department of Homeland Security.
This isn't the first time smugglers tried to use fake produce to bring drugs into the United States. Last year, agents found 2,493 pounds of marijuana stuffed into fake carrots at the same border crossing.