This is an archived article and the information in the article may be outdated. Please look at the time stamp on the story to see when it was last updated.
[protected-iframe id="c7e34968e43f8328e54c47bf350dabac-41641936-52137988″ info="http://up.anv.bz/latest/anvload.html?key=eyJtIjoiU1BTIiwicCI6ImRlZmF1bHQiLCJ2IjoiNDYxMDc0IiwicGx1Z2lucyI6eyJkZnAiOnsiY2xpZW50U2lkZSI6eyJhZFRhZ1VybCI6Imh0dHA6Ly9wdWJhZHMuZy5kb3VibGVjbGljay5uZXQvZ2FtcGFkL2Fkcz9zej0xeDEwMDAmaXU9LzYwODgvc3NwLldUVkYvbmV3cy8vZGV0YWlsJmNpdV9zenM9MzAweDI1MCZpbXBsPXMmZ2RmcF9yZXE9MSZlbnY9dnAmb3V0cHV0PXhtbF92YXN0MyZ1bnZpZXdlZF9wb3NpdGlvbl9zdGFydD0xJnVybD1bcmVmZXJyZXJfdXJsXSZkZXNjcmlwdGlvbl91cmw9aHR0cDovL3d3dy5uZXdzY2hhbm5lbDUuY29tL25ld3MvbWV0cm8tb2ZmaWNlci1pbmp1cmVkLWluLWZpZ2h0JmNvcnJlbGF0b3I9W3RpbWVzdGFtcF0mY3VzdF9wYXJhbXM9Zm5hbWU9bWV0cm8tb2ZmaWNlci1pbmp1cmVkLWluLWZpZ2h0JnRlbXA9NTAtNTkmb3JkPTY2MTU4MzYyNjEzMTg4MTcwMCJ9fSwicmVhbFRpbWVBbmFseXRpY3MiOnRydWV9LCJhbnZhY2siOiJhbnZhdG9fbWNwX3Nwc193ZWJfcHJvZF81NGJkYzkwZGQ2YmEyMTcxMGU5ZjcwNzQzMzgzNjViYmEyOGRhMzM2In0″ width="640″ height="360″ frameborder="0″ scrolling="no" webkitallowfullscreen="" mozallowfullscreen="" allowfullscreen=""]
Cellphone video shows members of a crowd jostling a police officer in Tennessee on Tuesday as he attempted to arrest a man suspected of assaulting a woman, authorities said.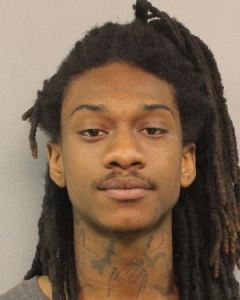 Shortly after 6 p.m., Officer Matthew Cammarn witnessed the alleged assault by 22-year-old Brian Shannon near the intersection of South 7th and Sylvan Streets, according to a statement from the Metropolitan Nashville Police Department.
The suspect "aggressively walked up to the officer," who told him to put his hands behind his back and attempted to take him into custody, the statement said. Shannon allegedly pulled away, grabbed Cammarn and pulled him to the ground.
As the 22-year-old actively fought and swung his fists at the officer, members of a gathered crowd "pulled and pushed" Cammarn in an effort to free the suspect, police said. The incident was captured in a disturbing cellphone video.
Shannon stood up and ran to South 6th Street, where he was apprehended, according to the statement. Online records showed he was jailed on suspicion of felony aggravated assault on a police officer, resisting arrest, evading arrest, criminal trespassing, disorderly conduct and drug possession.
A 17-year-old boy, suspected of aggravated assault on an officer and evading arrest, was also taken into custody in connection with the recorded altercation, the news release said.
The condition of the alleged assault victim was unknown.
Cammarn, the Police Department's 2015 officer of the year, was released from a hospital Tuesday evening after being treated for a head injury sustained in the incident, the statement said.
Officer Cammarn was the MNPD's 2015 Officer of the Year for saving the life of a 17 yr old gunshot victim. pic.twitter.com/I3gHE8eTAW

— Metro Nashville PD (@MNPDNashville) April 13, 2016