This is an archived article and the information in the article may be outdated. Please look at the time stamp on the story to see when it was last updated.
A New Zealand father whose wife abandoned their infant son because he was born with Down syndrome has decided to raise the child as a single dad, according to a report and a fundraising page.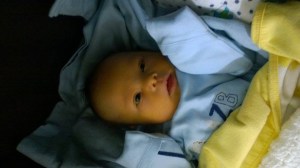 Leo Forrest was born in Armenia on Jan. 21, 2015, much to the delight of his father, Samuel Forrest. He stated that regardless of the genetic condition, he considered his son to be "perfect."
"They took me in (to) see him and I looked at this guy and I said, 'he's beautiful — he's perfect and I'm absolutely keeping him,'" he said upon seeing his child for the first time, according to Boston television station WCVB.
His wife, however, had "refused to even look at or touch the newborn," a GoFundMe fundraising page set up to support Forrest and his baby stated. The Armenian woman was afraid "of getting attached in a society where defects are not accepted, often bringing shame on the family involved," according to the page.
A short time after Leo's birth, the mother and her family abandoned the baby. What's more, they told him he would be no longer welcome in their home if he decided to keep the baby.
But Forrest refused to give up on the child. Faced with a difficult choice — his wife or his infant son — Forrest chose the latter.
His wife has since filed for divorce.
"It's not what I want," he said, according to the station. "I didn't even have a chance to speak with her in private about it."
The decision, he explained, was all done behind his back.
Forrest has decided to return to Auckland, New Zealand, where he is originally from, and raise Leo as a single dad, according to the GoFundMe page "Bring Leo Home."
The fundraising page was created to provide financial help for Forrest, who said he had "very little" but wants to raise and care for the child himself full time.
The goal of the GoFundMe was to raise $60,000. In 10 days, however, it has already raised more than three times than that.
As of Friday morning, 6,000 people had donated more than $189,000 to help Forrest and his baby.
Some of the extra money raised would be used "to secure better living conditions in Auckland, and to give Leo higher quality opportunities when it comes to education – a good home and school cost money," a post on the page stated. "Leo will have all that and more, thanks to you."
Money raised would also go to facilities and programs in Armenia that support parents who keep their children with disabilities, the page said.
Additionally, Forrest has been working with disability awareness groups and is sharing his story with the hope that it can help educate the parents of children with special needs.
"I'm not going to sit back and watch babies be sent to orphanages," he said of his experience. "As a child with Down syndrome, that becomes somewhat of a label. If we can get around this label, we'll see that they're normal. They're a little different from us, but they're still normal."