This is an archived article and the information in the article may be outdated. Please look at the time stamp on the story to see when it was last updated.
Dashcam video posted to a Wisconsin police department's Facebook page shows a man who had allegedly been drinking belly-flopping onto the hood of a patrol car on New Year's Eve.
"Not a good start to 2017," City of Menasha Police Department officials wrote in their Facebook post.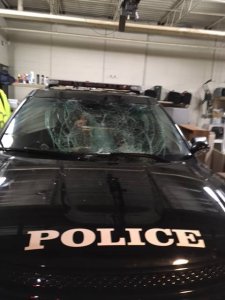 Police said a 25-year-old man first jumped onto a vehicle and officers responded to the scene.
When officers arrived, the video shows the man then jumping onto the hood of the car, causing the windshield to break.
Two officers inside the vehicle were injured, apparently while taking the man into custody. One officer was treated and released from the hospital, while the other did not seek medical treatment, police said.
The man was taken to a hospital and was eventually taken the county jail. The case was being referred to the Winnebago County District Attorney's Office on multiple charges.
The Facebook post ended with a message to residents: "A reminder that if you drink, please do so responsibly."