This is an archived article and the information in the article may be outdated. Please look at the time stamp on the story to see when it was last updated.
A Utah girl struggling with a deadly illness hopes that you will add one more Christmas card to your list this year.
In the quiet town of Fountain Green the local post office is the heart of the community.
And getting the mail from Box 162 is something that little Addie Fausett literally lives for.
At 6 years old, Addie is starting to count the Christmas cards sent specifically to her, which she can hang on the door.
There is a reason so many people are sending Addie a Christmas card.
"She kind of stopped growing when she was 3," said Tami Fausett, Addie's mother.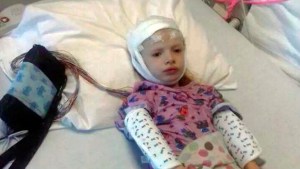 And slowly since then, the bubbly and energetic little girl who now weighs just 23 pounds continues to struggle.
"She likes to laugh and have a good time and hear stories, but lately she has had a lot of days she will just cry all day long," Tami Fausett said.
And even with many visits to neurologists at Primary Children's, Addie's condition has gone undiagnosed.
"Cerebral atrophy is just a symptom of what is wrong, but she is still undiagnosed," Tami Fausett said.
The deteriorating condition of her brain resulted last month in a devastating prognosis.
"They told us she probably won't last much longer and they told us roughly a year," Tami Fausett said.
Now, with the prospect that this will be Addie's last Christmas, her grandparents thought it would be nice for Addie to receive a lifetime of Christmas cards this year.
"She doesn't get to play with kids, so we thought if everyone would send her a card, we could tell all her friends it would make her Christmas a little bit better," Tami Fausett said.
With the help of her older sisters, Shayley and Audree — who hang up the cards — cards for Addie and her sisters are pouring in from family, friends, and as word spreads on social media, even strangers.
"(We're) hoping to get a lot so we can cover all the walls with them, for Addie," Tami Fausett said.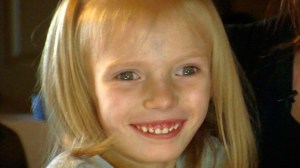 Back at the post office, if this smile on the other side of Box 162 won't warm your heart, Addie's Christmas wish for us all certainly will.
"Merry Christmas!" Addie exclaimed.
If you would like to send Addie and her sisters a card, you can mail it to Box 162, Fountain Green, UT 84632.
To donate, contact the Pleasant Grove Police Department at 801-785-3506 and ask for Officers Clegg or Humes.
You can follow Addie and her family on their Facebook page Little Addie.
This story was originally published by KSL-TV in Utah and distributed by CNN Wire.