This is an archived article and the information in the article may be outdated. Please look at the time stamp on the story to see when it was last updated.
Efforts to raise the minimum wage have put more money in the pockets of roughly 17 million low income workers since 2012, according to a new report that comes as workers across the country on Thursday planned to protest and call for a $15 hourly wage.
The report was released Wednesday by the National Employment Law Project, a workers-rights group. It says the "Fight for $15" movement has played a crucial role in recent increases.
Paul Sonn, the report's co-author, said that causation between the Fight for $15 and the minimum wage increases can't directly be proven. But he said there's a big argument for its impact in raising public awareness and changing the national conversation.
"Lawmakers were stuck at increasing the minimum wage to $10.10 an hour from $7.25," said Yannet Lathrop, co-author of the report. "Now people are talking about $15 an hour."
The Fight for $15 movement began in November 2012, and Thursday's actions are its biggest so far.
The study from the law project looked at employees who have received pay increases since the movement began. It found most of the workers included in the report have already begun to receive increases, which will build up gradually.
Of the 17 million workers who have received increases, 59% will eventually receive $15 an hour.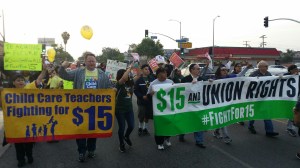 Meanwhile Thursday, hundreds of raucous protesters, including striking Verizon employees, converged on a McDonald's restaurant in Times Square in New York City.
"What do we want? 15! If we don't get it? Shut it down!" chanted the protesters at dawn, bathed in neon light from the restaurant and Times Square billboards.
The crowd of about 300 protesters included a marching band and dancers. A pair of protesters dressed like the Hamburglar carried an outsized effigy of Ronald McDonald outside the restaurant as several McDonald's customers sipped coffee and watched.
In Los Angeles, workers took to the streets of downtown at about 10:30 a.m.
Fast-food workers were set to strike, joining home-care and child-care workers, according to organizers of the L.A. action.
A 6 a.m. protest also took place at a McDonald's on Manchester Avenue in South L.A.
Fight for $15 actions were taking place worldwide, involving tens of thousands of "underpaid workers," L.A. organizers said in an announcement sent to news media.
Events will take place in 300 U.S. cities and more than 40 countries.
People who work in the fast-food industry, at airports, in education and who provide home and child care are expected to participate in the strikes.
Earlier this month, New York and California became the first states to establish a minimum wage of $15 an hour.
In California, the minimum wage was expected to increase to $10.50 per hour on Jan. 1, 2017, for businesses with 26 or more employees. The minimum wage rise each year after that until it reaches $15 per hour in 2022.
New York's legislation phases in the $15 wage for various groups and in various regions, starting in New York City in 2018 and moving to the city's suburbs and to fast-food workers statewide.
"There's still millions of workers across the country that are still struggling, making poverty wages," said one marcher in downtown Los Angeles. "We're here today standing in solidarity (with) all those who have not reached $15 an hour."
#Fightfor15 Impact Report – Raises for 17 Million, 10 Million Going to $15 https://t.co/ZSP95kd0uC #RaisetheWage pic.twitter.com/J6tdJGbxdy

— NELP (@NelpNews) April 14, 2016