This is an archived article and the information in the article may be outdated. Please look at the time stamp on the story to see when it was last updated.
A Yazidi woman who was kidnapped and taken as sex slave by ISIS told CNN's Fareed Zakaria on Sunday that the Iraqi government and the UN should establish an investigation in order to bring members of the brutal regime to justice.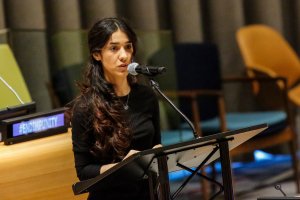 Nadia Murad, along with her counsel, international human rights lawyer Amal Clooney, described her ordeal to Zakaria. It began in 2014 after ISIS militants arrived at her village in Sinjar, Kurdistan, she said.
"Early morning on Aug. 3, 2014, they attacked us," she recalled.
"Nearly 6,500 women and children from the Yazidi were abducted and about 5,000 people from the community were killed during that day. For eight months, they separated us from our mothers and our sisters and our brothers, and some of them were killed and others disappeared."
Murad's mother and six of her brothers and stepbrothers were executed. Murad, along with other unmarried women, was taken as a sex slave and passed around various ISIS militants.
At one point, she told the UN Security Council in 2015, as punishment for a failed escape attempt, she was gang raped until she passed out. All of this, she said, was considered legal under ISIS rule — which dictates that Yazidis, because they do not practice Islam, can be taken as slaves on religious grounds.
"They sold girls, girls that were underage, because ISIS considered that permissible under Islamic law," Murad said. "They came not just to attack certain people, but they came for all Yazidis."
Yazidis are a religious community within the region's Kurdish ethnic minority who have faced centuries of persecution because their beliefs differ from Islam. The bulk of the Yazidi population is in northern Iraq.
The violence against the Yazidi community continues to this day, said Clooney, who represents Murad. More than 6,000 Yazidis are believed to remain in captivity, some of them from Murad's own family, Clooney said.
It's time, she said, to bring ISIS to justice for committing some of "the worst crimes of our generation."
"We know that there's a military campaign going on where ISIS is being taken on on the battlefield. What we want is to see ISIS members also in a courtroom," Clooney said.
No court has attempted to prosecute ISIS
The UN has recognized ISIS as responsible for the genocide of Yazidis in northern Iraq. Yet there hasn't been a "single prosecution against ISIS in a court anywhere in the world for the crimes committed against the Yazidis … for any international crimes," Clooney pointed out.
Last week, Clooney addressed the UN in a bid to convince the Security Council to set up an investigation in Iraq to start collecting evidence. "ISIS is not a local threat, it's a global threat," Clooney said.
"So, my message to the UN was, this is a global threat. It needs a global response. And part of that response must be a judicial one. It cannot be only on the battlefield. You can't defeat ISIS on the battlefield alone, because you have to also deal with future recruiting. And I think trials and exposing the brutality of ISIS and trying to make a dent in some of their shiny propaganda by showing that it's not a holy war and showing what they're really doing to children, to women, is one way to help that," she said.
Clooney believes an investigation also is crucial to ensure that evidence is properly collected. "ISIS has set up a whole bureaucracy involving the slave trade where they've set up committees, they've set up courts, so there are documents, there's DNA, there are mass graves, and nobody is actually collecting this evidence. And if it gets lost, it means we can never have trials and we can never have justice," she said.
Clooney: There is a resolution 'drafted and ready'
Clooney said she is asking the Iraqi government and the UN to step in and set up a thorough investigation. In order to make that happen, she said, Iraq needed only to send a letter to the Security Council saying, "Please establish an investigation."
"There's already a resolution drafted and ready," she said, "And if Iraq just sends the letter, then there will be a vote. And from all of my conversations, including with the Russian ambassador and the United States ambassador and others, it seems that there's actually broad support in the Council.
"So, this actually should move forward. It's in line with the Iraqi government's interests, because they're going after ISIS."
Murad, who now lives in Germany, said she hoped ISIS would finally be brought to justice.
Then, she said, switching from her native language to a halting English, she "wondered," that "maybe if I can speak English, maybe the UN, they can understand … what we want. But I can't."
"We can hear you no matter what language you speak," said Zakaria.