This is an archived article and the information in the article may be outdated. Please look at the time stamp on the story to see when it was last updated.
A gymnast who won a bronze medal with the U.S. women's national team at the 2000 Sydney Olympics is suing USA Gymnastics and its longtime team physician on allegations he sexually abused her for six years.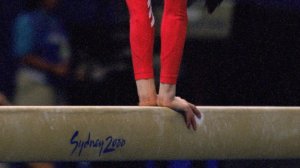 The unidentified woman said Dr. Larry Nassar used his position to repeatedly molest her and other gymnasts during the 1990s and early 2000s — from when she was 12 or 13 until she was 18 — in a suit released Monday and filed Sept. 8 in Sacramento County Superior Court.
The unnamed plaintiff, a California resident, said she "sacrificed her youth, a normal childhood, and quite literally, her body, to obtain her world-class status as a gymnast and to represent the United States of America with honor, courage, commitment and pride."
The suit also names USA Gymnastics' past three presidents and current president Steve Penny as defendants, alleging they "oversaw a wide-ranging, calculated concealment of numerous instances" of sexual abuse and retained multiple staff members who engaged in misconduct.
A second gymnast who competed with the team, Rachael Denhollander, filed a police complaint against Nassar in Michigan two weeks ago saying he assaulted her multiple times, the Indianapolis Star reported.
In response to the allegations USA Gymnastics only said it dismissed Nassar last September after receiving claims against him in the summer of 2015. He is currently a faculty member at Michigan State University, where he treats the women's gymnastics and crew squads.
Immediately after learning of athlete concerns about Dr. Nassar last summer, Steve Penny, USA Gym president & CEO, notified law enforcement.

— USA Gymnastics (@USAGym) September 12, 2016
We also relieved Dr. Nassar of his duties, and he ceased to be affiliated w/USA Gymnastics. https://t.co/dHFsJbsIGe https://t.co/0V6jY3zgfx

— USA Gymnastics (@USAGym) September 12, 2016
Last month, a report by the Indianapolis Star found USA Gymnastics executives neglected to inform authorities of sexual abuse allegations at its member clubs unless the claims came directly from a victim or victim's parent.
Nassar began working for USA Gymnastics as a trainer in 1986 and was promoted to medical director and team physician for women's gymnastics in 1996.
The suit alleges that he began "grooming" the victim for abuse in 1994, fondling her during treatment and describing elicit acts he said were performed by other gymnasts. Nassar began physically assaulting her while the team was traveling around Aug. 2000, digitally penetrating her in her assigned sleeping quarters under the guise of performing "intravaginal adjustment," according to the filing.
This isn't the first time USA Gymnastics has faced such allegations. Don Peters, coach of the 1984 Olympic team, was banned from the sport and removed from its hall of fame in 2011 following an Orange County Register investigation into his sexual misconduct with three gymnasts. Ten former team members also told the newspaper that coach Doug Boger had abused them when they were as young as 8 years old.