This is an archived article and the information in the article may be outdated. Please look at the time stamp on the story to see when it was last updated.
A 2-year-old German shepherd who was hailed by relatives as a "hero" for protecting a teen during a home-invasion robbery in Washington state last week is back with his family after undergoing surgery.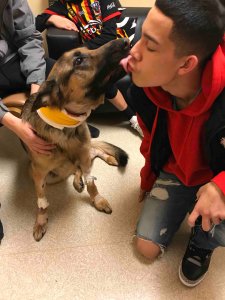 Rex was beaten by the two robbers after they broke into a house in Des Moines while the 16-year-old resident was home alone last Wednesday. The dog was shot three times when he threw himself in their direction as they opened fire in the teen's bedroom, according to relatives.
He was already badly injured after the beating, but took the bullets to protect the boy, who was hiding in a closet after calling police, family members said.
"My nephew was protected by his eternal friend until the last bit of strength he had in him to do what his unconditional, loving instinct told him to," Susy Cadena, the teen's aunt, wrote in a GoFundMe page set up to help pay for the dog's medical expenses.
She called him a "hero dog."
Rex underwent successful surgery to repair a broken tibia on his left hind leg. He was released from the BluePearl Veterinary Partners facility over the weekend and went home, KTLA sister station KCPQ in Seattle reported Sunday.
The dog is expected to make a full recovery but he will need to continue with medical treatment, including physical therapy, according to the station.
As Rex returned home, the grateful teen — identified only as Javier — told KCPQ he plans to spend time giving back to the canine, who he describes as his "best friend."
"That's my little guy right there. That's my best friend," he said after the dog returned home. "He's really traumatized now, like, fast reactions will scare him, kind of like he'll jump. but I think we'll get through it, just work on it slowly."
The GoFundMe has raised about $60,000 as of Tuesday morning, well above the $10,000 Cadena initially sought to raise.
The dog's owners expressed gratitude to those who donated, saying they are thankful to the thousands who helped them pay for the dog's medical bills. They told the station they plan to save the money so they can use it to give dog the best care possible.
Police have not yet caught the two robbers who beat and shot Rex, according to the station. A description of the wanted pair was not provided.