This is an archived article and the information in the article may be outdated. Please look at the time stamp on the story to see when it was last updated.
As rescue officials in southeast Texas struggled to respond to the overwhelming destruction wrought by Tropical Storm Harvey on Sunday, many people anxiously monitoring the disaster from screens across the country were searching for ways pitch in.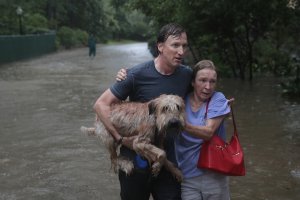 By the time the storm dissipates it will have dumped 25 trillion gallons of rain on the state, says Ryan Maue with WeatherBell, a weather analytics company. National Weather Service officials have used catastrophic language to suggest the storm could be the worst the U.S. has ever seen.
A number of nonprofit organizations are working to mobilize relief for those affected, with some putting a specific focus on more vulnerable communities:
The head of the Federal Emergency Management Agency said his agency is already gearing up for a years-long effort to help Texas recover from the damage.
"FEMA is going to be there for years," administrator Brock Long said Sunday on CNN's "State of the Union."
He added, "This disaster is going to be a landmark event."
Hurricane Harvey, now a tropical storm, hit southeastern Texas this weekend, and forecasters said it would continue to make its way inland over the course of the next several days.
Although Long has used language echoing the severity of Hurricane Katrina, he said Harvey poses different challenges and was "nothing like" it. He stressed the days-long threat it poses as it makes its way further into Texas.
"This is a storm that the United States has not seen yet," he said.
Long advised residents on the ground facing the storm to stay on top of local news reports for information and avoid calling 911 unless they are in need of emergency assistance.