This is an archived article and the information in the article may be outdated. Please look at the time stamp on the story to see when it was last updated.
Hundreds of homes remained under mandatory evacuations Tuesday as a pair of wildfires charred nearly 5,000 acres in the San Gabriel Mountains.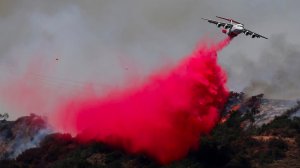 Fire officials dubbed the incident — consisting of both the Fish Fire above Duarte and the Reservoir Fire above Azusa — as the San Gabriel Complex fires during a 9 a.m. news conference Tuesday.
Earlier Tuesday, officials stated the wildfires had burned a total of about 5,400 acres. The size of the fires was downgraded to 4,900 acres after the area was re-mapped later in the day. The fires were 10 percent contained as of 8 p.m.
"The fire is threatening the San Gabriel wilderness within the national monument," said incident commander Mike Wakoski with the San Bernardino County Fire Department.
The nearly 350,000-acre San Gabriel Mountains National Monument was designated by President Barack Obama in 2014.
More than 1,000 personnel were attempting to get control of the fire, but officials have been short on resources due to the nearly 8,000-acre Sherpa Fire in Santa Barbara County and the 7,500-acre Border Fire in San Diego County, Wakoski said.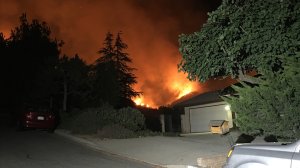 More help was on the way, however, and crews should be fully staffed within the next 24 hours, Wakoski said.
Firefighters managed to keep the fire on the east flank from damaging homes in the Duarte area overnight, but the west flank was still burning out of control, said Deputy Chief John Tripp with the Los Angeles County Fire Department.
"Our big threat today is still that left side of the fire, the west flank," Tripp said.
Tripp urged residents of Bradbury and Monrovia to "stay in tune with the media" and be prepared to evacuate if necessary.
Both fires began within an hour of each other during midday Monday.
About 770 homes have been evacuated, according to the Los Angeles County Sheriff's Department.
About 80 deputies have been deployed to evacuation areas to help residents and to protect against potential looting, said sheriff's Cmdr. David Halm.
"If you're thinking about coming up to this area and trying to commit a burglary or any crime in that area, we have deputies there that will be waiting for you," Halm said.
The deputies will remain on hand until residents are allowed back into their homes, Halm said.
In Duarte, areas under an evacuation order are north of Royal Oaks Drive, west of Encanto Parkway, and east of Mount Olive Road. In Azusa, mandatory evacuations were in effect for the neighborhoods of Mountain Cove and Rainbow Ranch.
Camp Williams, Heater Flats, Burro Canyon, Crystal Lake, and Cold Brook have also been evacuated.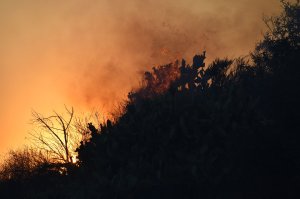 Drivers are advised to avoid several roads that have been closed due to the fire, including Glendora Mountain Road at Big Dalton Canyon Road, Glendora Ridge Road from Mount Baldy, and Mount Laurel Way at San Gabriel Canyon Road.
Large animals can be taken to Gate 12 at the Pomona Fairplex, located at 1101 W. McKinley Ave.
The Reservoir Fire fire began following a fatal crash involving a pickup truck that went over the side of Highway 39 near Morris Dam, U.S. Forest Service Fire Chief Robert Garcia confirmed.
The cause of the crash was under investigation, Garcia said. The cause of the Fish Fire, which started shortly after the Reservoir Fire near mountain foothill homes in northeast Duarte, was also under investigation.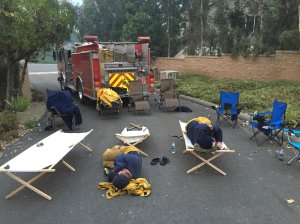 The community of Mountain Cove, along with Camp Williams and Glendora Mountain Road, were under a mandatory evacuation, and Highway 39 was closed.
A smoke advisory was in effect for the San Gabriel Valley and surrounding areas. All people should avoid unnecessary outdoor exposure in areas where there is visible smoke or the odor of smoke, the county public health department said.
Temperatures on Tuesday were expected to be slightly cooler than the record-breaking heat experienced Monday, but still well above average.
KTLA's Melissa Pamer, Kennedy Ryan contributed to this article.
[googlemaps https://www.google.com/maps/d/embed?mid=1TYv0gKLSp8zAzcZUHWpKhHcXPtE&w=640&h=480]
Burn Area near the San Gabriel Reservoir. #SanGabrielComplex Make sure you #DoYourPart and #PreventWildfires. pic.twitter.com/wzItCjeRmn

— Angeles_NF (@Angeles_NF) June 21, 2016