This is an archived article and the information in the article may be outdated. Please look at the time stamp on the story to see when it was last updated.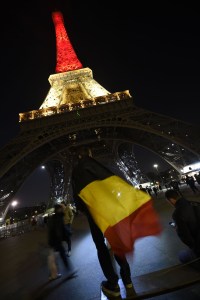 As the world reacted to the news of the Brussels attacks, messages of solidarity, shock and sadness flooded social media on Tuesday.
Three explosions ripped through Brussels, Belgium, killing at least 34 people and injuring 170. Two of the blasts were at the Brussels Airport, while another happened at a subway station in the district of Maalbeek.
People shared cartoons expressing grief in black, yellow and red, the colors of the Belgian flag. Others posted messages of solidarity with #JeSuisBruxelles, an ode to a similar outpouring with #JeSuisCharlie after the Charlie Hebdo attack in January 2015.
Some people went beyond showing their solidarity — they invited stranded people into their homes using #OpenHouse.
Meanwhile, the icon of Paris, the Eiffel Tower, was lit up in Belgium's colors on Tuesday night.
French cartoonist Jean Plantureux, who goes by Plantu, drew an emotional cartoon for French newspaper Le Monde. A crying person draped in a French flag hugs a crying person with a Belgian flag, suggesting solidarity between the two countries. The dates beneath each figure signify the November 13 Paris attacks and the March 22 Brussels attacks.
An image of famous cartoon figure Tintin appeared with black, yellow and red tears rolling down his face. Tintin's hometown is Brussels.
#Paris & #Bruxelles sont unies. La Tour Eiffel s'illumine aux couleurs de la Belgique. pic.twitter.com/Qj1LHbITRI

— Anne Hidalgo (@Anne_Hidalgo) March 22, 2016
https://twitter.com/UnionBerlinMan/status/712220328341184513/photo/1
Pensées pour nos amis belges #JesuisBruxelles pic.twitter.com/yfVrAL0gIS

— Sylvain Zimmermann (@sylvainzim) March 22, 2016
A hand holding a cone of french fries in the style of the Statue of Liberty holding the torch also spread across social media. Lore has it that fries originated in Belgium, but it's an ongoing dispute between France and Belgium.
Other images simply showed the world had Brussels in their thoughts, as translated from this image in French.
We stand together with Belgium #Brussels #BrusselsAttack pic.twitter.com/r8AgIcIImX

— French Government (@French_Gov) March 22, 2016
STAY STRONG #BRUSSELS. OUR HEARTS ARE WITH YOU– pic.twitter.com/yBJ1dGhgiD

— LAPD HQ (@LAPDHQ) March 22, 2016