This is an archived article and the information in the article may be outdated. Please look at the time stamp on the story to see when it was last updated.
A northeast Iowa couple is facing homicide charges after their four-month-old son was found dead, weighing less than 7 pounds and in a diaper that hadn't been changed in a week.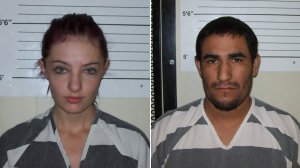 Twenty-year-old Cheyanne Harris and 28-year-old Zachary Koehn face charges of first-degree murder and child endangerment resulting in death, according to KTLA sister station WHO in Des Moines.
An ambulance was called to the couple's Alta Vista apartment on Aug. 30 after Koehn told authorities his son Sterling Koehn had died, just a few hours after he said Harris fed the child, according to a criminal complaint filed on Tuesday.
The baby was allegedly found in a motorized swing seat in a different bedroom from where the couple and their other child slept.
An autopsy by the state medical examiner's office found the infant measured well below the fifth percentile in size and weight for the child's age, the complaint states. Maggots were also found in various stages of development on the child's skin and in his clothing.
A forensic entomologist was able to determine the child "had not had a diaper change, bath, or been removed from the seat in over a week."
The death has been classified as a homicide with the cause of death ruled as failure to provide critical care.
"The facts of this case go far beyond neglect and show circumstances manifesting an extreme indifference to human life," the criminal complaint concludes.
Harris and Koehn are being held in the Chickasaw County Jail. They are scheduled to be arraigned on Nov. 2.