This is an archived article and the information in the article may be outdated. Please look at the time stamp on the story to see when it was last updated.
JERUSALEM — Israeli forces dropped leaflets in northern Gaza on Sunday to warn residents to move away from Hamas sites to avoid airstrikes.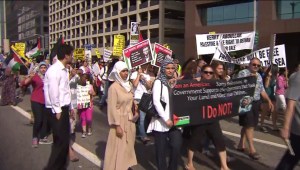 The warning came as the death toll in Gaza reached 168, with more than 1,100 people injured, the Gaza Health Ministry said.
About 70% of the fatalities were civilians, of which 30% — 27 people — were children, said Chris Gunness, spokesman for the United Nations Relief and Works Agency for Palestine Refugees, which said the figures came from the U.N. Office for the Coordination of Humanitarian Affairs.
Israel said its forces have struck 1,320 "terror targets" across Gaza, including 735 concealed rocket launchers.
Israel has used its Iron Dome defense system against many of the more than 800 rockets fired from Gaza into Israel, the military said.
On Sunday, one rocket that hit the city of Ashkelon severely wounded an Israeli teen, the Israel Defense Forces said.
"All sides … must respect the sanctity of civilian life," Gunness said on Twitter.
Pierre Krahenbuhl, head of UNRWA, planned to visit Gaza on Sunday, but the Israeli military did not authorize the mission for security reasons, Gunness said.
Israeli forces briefly entered Gaza early Sunday and raided a missile launching site. It marked the first time Israeli forces have acknowledged they've entered Gaza in the current conflict.
During the incursion, which lasted about half an hour, both sides exchanged gunfire at the launch site, an Israeli military source said.
Four Israeli soldiers suffered light injuries, but all the troops returned home safely, the source said.
The source declined to comment on whether the mission achieved its objective.
Throughout the conflict, Israel has warned Gaza residents of upcoming attacks targeting militants and terrorist infrastructure. On Twitter on Sunday, the IDF posted: "To warn civilians of an impending strike, the IDF drops leaflets, makes personalized phone calls & sends SMSes. How many militaries do that?"
"Sirens heard across (Israel). Gaza terrorists are firing barrages of rockets. Israel is under attack," the IDF posted, with a photo asking "What would you do?"
Another tweet Sunday showed large trucks. "As rockets fall on Israel, we keep our crossing to Gaza open. 59 truckloads of goods are about to reach Palestinians," the post said.
Hamas, the Palestinian militant group that controls Gaza, posted Saturday on its Twitter feed that it was going to strike Tel Aviv. "Palestinians are defending themselves," the group posted Sunday, with a video that it said showed it targeting a tank.
Hamas also tweeted that the "death toll rises to 162 martyrs" from Israeli airstrikes.
Video on Hamas-run television showed a Hamas spokesman urging people to serve as human shields, CNN's Jake Tapper reported.
Palestinian sources have also described some deaths in the conflict as being people who formed a "human shield."
But former Palestinian adviser Diana Buttu told "The Lead with Jake Tapper" that she does not believe "people are going to listen to somebody who says stay inside while your house is being bombed."
In leaflets dropped Sunday, the IDF warned residents that it intends "to attack terrorists and terror infrastructures." The leaftlets list areas that will be targeted. "Israel is currently attacking, and will continue to attack, every area from which rockets are being launched at its territory."
The leaflets told residents which roads were safe to take and gave a time frame. "The IDF is not interested in hurting you or your family members. These operations are limited and short. Whoever does not adhere to these instructions and does not vacate their house immediately is subjecting their lives and the lives of their children and family to danger," the leaflet said.
Articles on Palestinian news sites showed residents trickling out of northern Gaza.
Some residents said they will not leave.
"They will not vacate. … Where do we go?" asked Ramez Al-Madhoun, who lives in a building with 20 people in Beit Lahya. He said his building is home to seven adults, the rest children. In the background, the sound of rockets rang out from his northern Gaza neighborhood.
The Israeli military said it also drops empty shells on roofs, an operation it calls "roof knocking," to alert civilians that airstrikes are imminent.
The goal of the airstrikes, the military said, is to get Hamas militants to stop firing rockets into Israel.
Hostilities between the two sides escalated this month after the killing of three Israeli teenagers and a Palestinian teen. Neither Hamas nor Israel appears to be backing down.
More than 3,000 Palestinians are displaced and hundreds of thousands have been affected by damage to water infrastructure, said UNWRA, the refugee agency.
Concerns about a ground invasion by Israeli forces are growing, prompting the U.N. Security Council to call for a cease-fire between Israeli forces and Palestinian militants.
CNN's Michael Schwartz and Salma Abdelaziz reported from Jerusalem; CNN's Josh Levs and Faith Karimi reported from Atlanta. CNN's Khalil Abdallah contributed to this report.