This is an archived article and the information in the article may be outdated. Please look at the time stamp on the story to see when it was last updated.
More than 200 people have died as a result of two earthquakes that struck Mexico this month, including a 7.1 magnitude tremblor that shocked and shook Mexico City on Tuesday.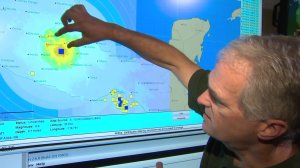 Mexicans are searching for answers in the wake of the devastating quakes, which can seem simultaneously random and inevitable.
Tuesday's incident also occurred on the exact same date as Mexico City's last monster earthquake, in 1985. That one was a magnitude 8.0 and killed thousands.
While much more research will need to be done on the latest events before they can fully be understood, KTLA spoke with scientists from Caltech's Seismological Laboratory to gain a better understanding.
The two quakes are related in mechanism despite the more than 400-mile distance between their epicenters, one near Puebla and the other off the coast of Chiapas, according to Ken Hudnut, a science adviser for risk reduction with U.S. Geological Survey at Caltech.
The seismic events were both caused by stress within one plate that is sinking, rather than occurring between two plates pressing on each other, Hudnut told KTLA.
"Both of them are cases where the plate is going down, and as it's going down, it is getting bent, and then unbent. You can imagine how in places there's compressional stress (and) in other places extensional stress," he explained. "Both of these are examples of extensional stress — so the plate that's going down is also pulling apart in places."
In the Mexican subduction zone, the Cocos tectonic plate runs directly along the country's west coastline and forces itself underneath the continental edge of the North American plate, then flattens out before going down again. Both tremblors were related to extensional stress within the Cocos plate, Hudnut said.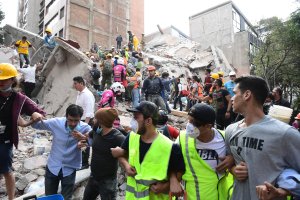 "It's unusual what's happening," he said, noting both are different from "your typical, coastal Mexico earthquake like the 1985 one," which occurred between two plates.
While the incidents are related in mechanism, they occurred at some distance from each other, and their relationship is still a bit unclear.
"You wouldn't expect a stress change at that kind of distance," Hudnut said. "We're still studying what's going on with that."
Tuesday quake also occurred at a much greater depth than the one Sept. 7. Because of that, it may not have as much aftershock activity as the 8.1 magnitude quake, which spawned several smaller earthquakes near its epicenter.
USGS is monitoring that possibility, Hudnut said, but what has been observed so far proves how variable these events can be.
"We're seeing surprising amounts of damage though from this earthquake," he said.
That has a lot to do with the soil in Mexico City, which is extremely loose and significantly increases the amount and duration of shaking an earthquake is able to deliver, according to seismologist Lucy Jones.
"Mexico City has extremely loose soil that amplifies that shaking by a factor of 100 or more," she told KTLA. "We have a bit of that issue in downtown Los Angeles, (but) we might see a factor of five amplification — they get a factor of 100. So they can get very damaging earthquakes even from some distance away."
There are a good amount of older buildings in the capital that would be especially vulnerable, but there was an effort following the 1985 quake to retrofit structures and make them more resilient, Hudnut said.
One thing is clear, Jones noted: None of these seismic incidents will have any impact on California. "It's just too far away," she said.