This is an archived article and the information in the article may be outdated. Please look at the time stamp on the story to see when it was last updated.
Academy Award winner Jennifer Lawrence has added her voice to the #MeToo debate, saying she had been treated "in a way that I think now we would call abusive."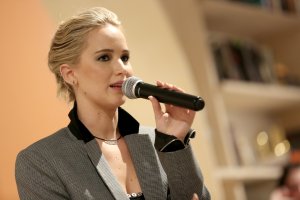 The star of Hollywood's "The Hunger Games" franchise says she does not put any of her experiences in the same category as those of Harvey Weinstein's alleged victims, but she does remember occasions when men in senior roles in the movie industry would touch her legs and she felt unable to protest.
"I was certainly mistreated," she said in an interview with CNN's Christiane Amanpour.
In 2014, she was one of several celebrities who were hacked and whose personal nude photos were published online, which Lawrence described at the time as a "sex crime."
Lawrence has described feeling "empowered" after shooting a nude scene in her new espionage thriller "Red Sparrow," which she described as "the perfect movie" for the #MeToo age.
"I had… a lot of insecurities when it came to sexuality and nudity and my body and I've just been carrying them around for years," she said in an interview, which also featured "Red Sparrow" director Francis Lawrence (no relation).
"When I read the script I loved it so much and I thought, if I don't do it… it's almost like all of these insecurities and fears win."
Based on the first novel in a trilogy, "Red Sparrow" tells the story of Dominika Egorova (played by Lawrence), a Russian ballerina who becomes a secret agent after an injury ends her career.
She undergoes a sadistic training program at the Sparrow School, at one point being told, "Your body belongs to the state," and is ordered to strip naked along with several other women.
Recalling the process of shooting the scene, the 27-year-old actress said: "The pre-emptive anxiety is so much worse than the actual reality. I had had a good year to prepare mentally for what I was going to do. The worst part was the night before — I didn't sleep at all."
Coincidentally, the scene echoed a "mentally brutal" experience Lawrence had early in her career when she was photographed almost naked alongside several much thinner women and told by a female producer to "use the photos as motivation" to lose weight.
The shoot for the nude scene in "Red Sparrow" was far less stress-inducing than she might have thought.
"When I got there, everybody's so professional and so nice," she said. "I was perfectly comfortable, and afterwards I felt empowered. I still feel empowered."
Although the film was shot well before the emergence of the #MeToo movement, the actress sees it as "the perfect movie that we need right now." It "opens up the conversation for the difference between consent and not consent," she explained. While she made an independent decision to be part of the movie, fully aware of what that entailed, Lawrence is aware that not all women in the industry are truly free to make the choice that is right for them.
When she agreed, they immediately began a conversation "about how to make her as comfortable as possible," said director Francis Lawrence. "It was a real collaboration between the two of us."
The director is convinced that men such as himself have a vital role to play in ending sexual abuse and harassment in the industry.
Directors should aim to create "the safest environments possible… so that people feel respected and safe and comfortable," he said.
He also called for more movies about women, and for more women to be hired to work both in front of and behind the camera, as well as more female executives.
Sexual harassment "happens in every single business around the world" and has been happening "for a very long time," he said. "What's new is the bravery of the people coming out and speaking about it."
Both he and Jennifer Lawrence are convinced that change will come as a result. "If we create a community where survivors can come forward and talk, then there's going to be change and there's going to be no way of going backwards," she said.
"Red Sparrow" is scheduled to be released in most of Europe on March 1 and in the United States on March 2.