This is an archived article and the information in the article may be outdated. Please look at the time stamp on the story to see when it was last updated.
The body of a young girl was found in a duffel bag at a Las Vegas apartment amid the search for a missing 3-year-old girl Thursday night, and her mother has been arrested, authorities said.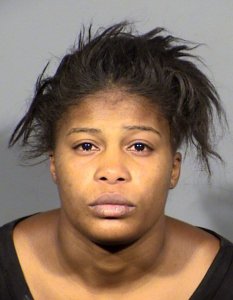 Las Vegas Metropolitan Police Department Homicide Lt. Ray Spencer said the girl was reported missing just before 9 p.m. on the 6800 block of East Lake Mead Boulevard near Hollywood Boulevard.
According to initial reports, the mother, identified as 29-year-old Aisha Thomas, was walking to Albertson's with her four children and was on the phone when one of her kids wandered off and went missing, Las Vegas television station KVVU reported.
Detectives from Metro police's Missing Persons Detail responded and began searching the neighborhood.
Detectives set up a command post in the parking lot of the Albertson's for additional resources, Spencer said.
Meanwhile, officers began looking for the girl inside Thomas's apartment, but they were unable to find the child at first.
Officers then conducted a second search since Thomas's story began showing inconsistencies, according to Spencer. During the second search, police noticed a heavy duffel bag inside the master bedroom's closet that was "emitting a mildew smell."
They found garbage bags when they opened the duffel bag, Spencer said. They opened the bags and found the body of the missing 3-year-old.
Thomas was arrested on suspicion of murder, Las Vegas police said. The other three children were placed in the care of Child Protective Services. According to Spencer, police believe the girl was killed within the last three days.
Four days ago, the girl's father had been arrested after a domestic violence call was placed, according to Spencer.