This is an archived article and the information in the article may be outdated. Please look at the time stamp on the story to see when it was last updated.
A Las Vegas surgeon says he is so moved by the story of 3-year-old Victoria Wilcher — who was mauled by pit bulls and allegedly told to leave a restaurant because of her scarred appearance — that he is offering to give her free reconstructive surgery.
"I saw Victoria's story on the news and on social media, and I was very affected by it. And it just seemed like the obvious thing to do: Just get involved," Dr. Frank Stile told CNN affiliate WJTV.
Victoria suffered severe facial scarring and lost her right eye and the ability to move the right side of her face after the April attack at her grandfather's home. Nearly two months later, she was allegedly asked to leave a KFC in Jackson, Mississippi, because her scarred face was reportedly scaring customers.
"They just told us, they said, 'We have to ask you to leave because her face is disrupting our customers.' (Victoria) understood exactly what they said," Victoria's grandmother, Kelly Mullins, told CNN affiliate WAPT.
Mullins later told WAPT that Victoria is embarrassed about what she looks like, "and I hate it because she shouldn't be. It ain't her fault."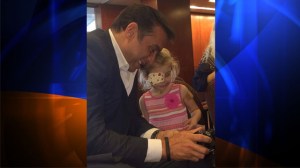 News about the toddler's plight went viral after her picture was posted on the Facebook page Victoria's Victories with the text, "Does this face look scary to you?" The outpouring of support for Victoria caught Stile's attention.
"It's tough enough to be a kid that's whole. To be a child that has some type of difference makes it exquisitely challenging," he told WJTV.
Stile offered his services free of charge and traveled to Jackson over the weekend to talk with Victoria and her family about her upcoming facial reconstruction. WJTV reports that Victoria will be fitted with a prosthetic eye within the next week or two.
The dogs that attacked Victoria in April were killed. The grandfather, Donald Mullins, from whom Kelly Mullins is divorced, was arrested on child endangerment charges, WAPT reported.
KFC, which has been investigating the alleged incident, said it has "zero tolerance for any kind of disrespectful behavior." The fast-food chain announced that regardless of its findings, it will donate $30,000 to help with Victoria's medical bills.