This is an archived article and the information in the article may be outdated. Please look at the time stamp on the story to see when it was last updated.
A man who was dressed as "Star Wars" villain Darth Vader during an attempted robbery at a Florida convenience store has been arrested, Jacksonville police said on Tuesday.
Officers initially responded to the 1300 block of Third Street South on Sunday after a man entered the business shortly before 5:30 p.m., brandished a gun, pointed it at the cashier and demanded money, according to a police report released by the Jacksonville Police Department.
The suspect was wearing a Darth Vader mask, gloves and dark clothing at the time.
The clerk refused to turn over any cash and got into a physical altercation with the costumed man, at one point throwing a jar of blue cheese salad dressing that struck the suspect in the face.
He then left the business. It was unclear if the suspect got away with anything from the store.
According to the report, a witness saw the man enter a silver-colored car and remove his mark, revealing apparent blood covering his face.
Responding patrol officers located a vehicle that matched the description in the 1600 block of Fifth Street South.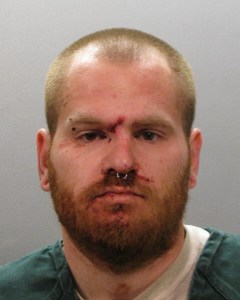 They then contacted a neighbor who identified the owner of the vehicle as Jacob Mercer, authorities said in the report. Officers were able to contact Mercer, a resident of New York, and asked him to come out of the residence where he was temporarily staying to speak with him.
He was subsequently detained and later positively identified by the witness as the man seen in the silver car, according to the report.
Mercer, 32, was then arrested. He faced charges including armed robbery, and was not eligible for bond, according to his inmate record.
His first court appearance was scheduled for Dec. 15.
KTLA's Irving Last contributed to this story.